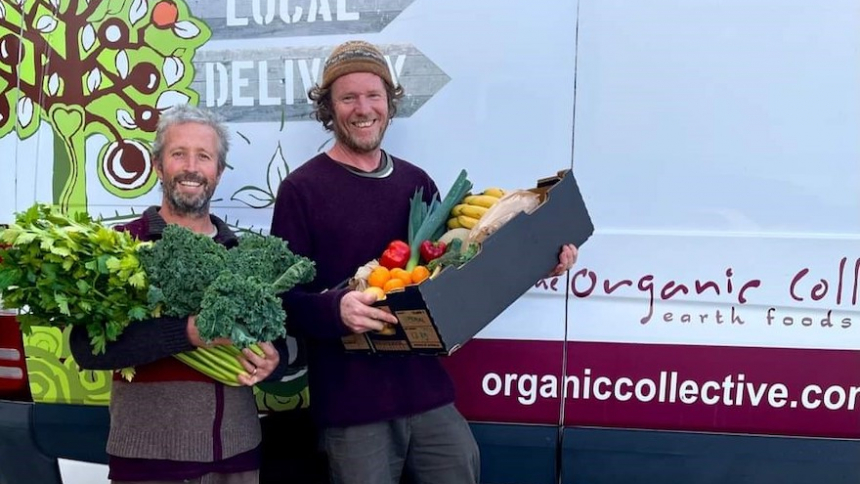 The Organic Collective has been a Buy West Eat Best member for more than 10 years. We find out what drives the passionate people behind Perth's popular organic produce boxes.
Bernie Morrow wasn't thinking about a business when he and wife Ali banded together with like-minded families 24 years ago to buy fresh fruit and vegies from the local markets.
"It was just a very small cooperative of five families, who put in $5 each and we'd go at the end of market week, buy up and share the produce," he says.
When the couple had their first child, organic food became very important to them. "So that's where we shifted, and we had the same concept of getting a group of people together to buy organic produce to share."
This time, they needed about 30 to be able to buy certified organic food in bulk, which they packaged up in a shed and delivered. But, still, this was something the couple were doing in their "spare" time, once a week.
"We never really had a business plan," Bernie says with a laugh. "It was just an idea that started, and more and more people wanted to join. Soon we had a waiting list, and we did it two days a week."
As word spread of their delicious boxes filled with fresh certified organic produce, the Fremantle-based cooperative started getting requests from all over Perth. "I'd say, 'sorry, we're just doing the local area' and they'd say 'alright, I'm gonna call back with 10 of my friends and then see what you say'."
Before long, there were 200-odd people on the waiting list and they were doing produce boxes three days a week. "Around 2006 we thought 'ok, there's something that wants to happen here, we could do it four days a week and it becomes a bit of a business'," Bernie recalls.
Fast forward to 2022, and that "bit of a business" is still going strong, with The Organic Collective delivering boxes laden with fresh food and other goodies around Perth. Bernie and his partner Damian Reid, an old school mate from Victoria, manage to keep their friendship strong through the ups and downs of running a business.
'Those values are supporting local farmers and the local economy and the place we live.'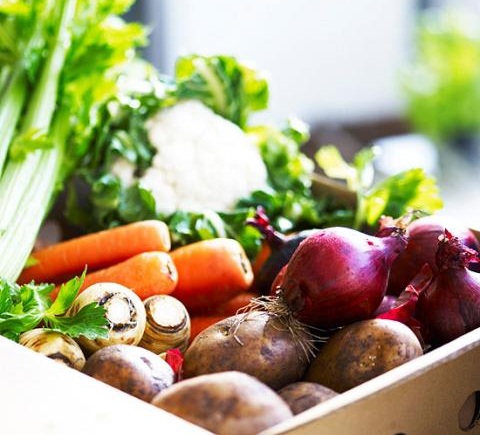 "He wasn't one of the original five families, but he moved over shortly after and got involved, and my wife is still very much involved, always has been," Bernie says.
"Knowing that what we're involved in is rooted in a really deep belief in looking after people's health, and looking after the environment, help with all those niggly bits and situations that you have navigate your way through business.
"If you can eat food that supports your health, supports the environment, supports the local economy and local small-scale farmers looking after the environment, it's a win-win situation."
Over the past two decades, Bernie has seen huge growth in the awareness of the benefits of organic food, and people choosing Western Australian produce.
"That's why we're part of Buy West Eat Best because those values are supporting local farmers and the local economy and the place we live," he says.
Unfortunately, there hasn't been a corresponding rise in certified organic farming, with The Organic Collective relying on a handful of farms for regular supply. It has made Bernie appreciate those who persevere even more – his son has even been working with one of the youngest farmers, Chris Maus at Maus Organic Produce, during his gap year.
"Building relationships with your suppliers is really important – knowing what their needs are and what your needs are, just being transparent," he says.
"And being local, when there's an issue you can speak to someone to find out what's going on and become more aware of what the limitations are, the difficulties in farming. I really love that opportunity to share that with customers."
The Organic Collective has expanded over the years, now offering customers a range of products on its website, including organic pantry items, eco cleaning and personal care.
"People were asking for other products, whether it was eggs or honey, or those other foundation, staple products," Bernie says. "So we started including those with the deliveries and eventually we opened a larger warehouse space where we could have more products."
That warehouse, in turn, became a retail store, in Hamilton Hill.
During Covid, demand for their services skyrocketed, with small businesses not experiencing the supply chain issues affecting the bigger supermarkets.
"It was a really crazy time – we probably had 1000 people join a waiting list over one weekend," Bernie recalls. "We actually closed our retail store so that we could digest everything and work out how to service people safely in the community."
'It's nice to be able to express your beliefs and your actions in what you're contributing to the community, to the culture.'
Even with life resuming a sense of normality (and the retail store open), The Organic Collective is capped at about 500 deliveries a week. "After that, it just starts to get crazy and our facilities aren't big enough for it. More importantly, we can't guarantee our suppliers can get product consistently, so we are happy working on that smaller scale," Bernie says.
"Our first buying criteria is certified organic, and after that it is WA grown. So, we would buy a West Australian certified organic product over an eastern state one. That's really about local community, local economy, food miles, it's sustainability. The local community is very important."
That passion for community extends to tree planting and helping out in other ways. "We've been doing some work with a community centre that works with people in crisis situations, so we've been delivering food boxes to people," Bernie says.
"It's nice to be able to express your beliefs and your actions in what you're contributing to the community, to the culture. It's a real privilege."