FAQs
We're here to help. If you don't find the answer to your question among those listed below, please get in touch.
Frequently asked questions
The Buy West Eat Best program is a voluntary labelling and marketing initiative developed by the State Government to assist local food and drink producers to promote their products to Western Australian consumers.
When you see the distinctive bite mark logo, you can be assured that you are supporting products that have been fished, farmed, grown, processed, prepared and served right here in Western Australia.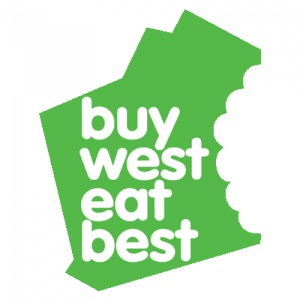 To use the logo, businesses must register for the program and enter into a licence agreement with the State Government. This allows correct usage of the logo and ensures that you are buying products that meet the strict Buy West Eat Best criteria.
Under the Australia New Zealand Food Standards Code, businesses are required to list on packaged products an address at which legal notices may be served for recall purposes. Sometimes the corporate head office address, which may be in a different state, is used. However, this does not mean the product has not been grown, farmed, processed and prepared in Western Australia. When the product carries the Buy West Eat Best logo you can be certain you're supporting Western Australian farmers and businesses.
Businesses that use the Buy West Eat Best logo have made a commitment to the Department of Primary Industries and Regional Development to uphold the integrity and compliance parameters of the program.
Generally, retailers and producers choose to use the green logo to make it easier for shoppers to locate product in-store, while restaurants or grocery brands use the white, grey or black logo (or sometimes even gold) to show they are part of the Buy West Eat Best community.
The criteria, integrity and compliance requirements remain.
We don't have a shopfront. Our members are all over this wonderful state and you will see the Buy West Eat Best logo in most retailers. Look for the logo wherever you shop, order a takeaway or dine out and know that you're supporting local producers.
Generally, when there are matters relating to freshness or the quality of products, the store where you bought the product should be contacted.
If you are comfortable with speaking to the retailer, then we recommend you draw this to their attention. If you don't wish to raise it directly, please email a picture of the shelf and retailer details to Buy West Eat Best feedback, and we will follow it up.
Follow these simple steps:
Download and complete our

membership application form

Email your completed membership application form and food safety documents

Once the application has been reviewed as successful, you will receive a Trademark Licence Agreement to sign and an invoice for the annual fee. 

The Trademark Licence Agreement allows you to use the logo on products that meet the program criteria.
Through all stages of registration, the Buy West Eat Best team are available to answer your questions. Contact us with any questions.
View our membership guidelines here.