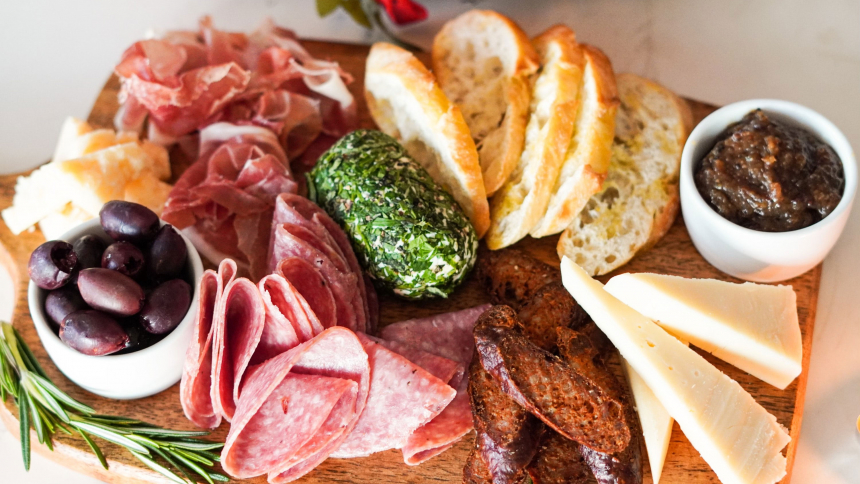 What started as a humble array of cheese and crackers has grown to include cured meats, pickles, fresh and dried fruits in a dish that transcends a straightforward dining experience – it is a truly social event.
Ditching traditional appetisers in favour of an interactive board became popular in the 2010s, though the term 'grazing board' first appeared on Australian search radars as early as 2006.
Having hit peak popularity in recent years, the grazing board has cemented itself as a staple for weddings, parties and gatherings of all sizes, thanks to its versatile nature. And we can see why – it's hard not to enjoy a dish that can bring together all your favourite nibbles in a single appealing arrangement.
But what does it take to make a humble grazing board truly great? In honour of WA's Great Graze, an event first held in April this year, we celebrate the amazing food and drinks of Western Australia. Discover our top tips and tricks for creating the perfect grazing board:
Start with a solid base
As the name implies, grazing boards are often served on just that – large wooden slabs, often stored awkwardly in the kitchen cupboard till the perfect occasion arises.
Yet don't feel beholden to only use cheeseboards – marble pastry boards, plates, metal trays lined with baking paper or a flat casserole dish can work just as well. Items with sides are especially handy if you're pre-preparing and transporting your board.
Ramekins, small baking moulds or tins, saucers and even shot glasses can be used to hold dips or sliced ingredients that must sit separately to the rest of your board.
Planning & preparation is key to success
If you just thought "Do I really need to plan a straightforward grazing board?" – the answer is "Yes"! Delivering a great grazing experience means knowing exactly how much you'll need per ingredient so no-one misses out. You also need to understand the dietary requirements of your guests and how this may impact the arrangement.
Tips to help plan your graze:
According to the website Chef Not Required, 50g of cheese per guest is a good starting place, aiming for a minimum of at least three cheese varieties. We recommend Western Australian brands such as Cambray Cheese, Dellendale Creamery, Harvey Cheese and Halls Family Dairy, for a blend of varieties and the best flavours.
Keep meats separate, where possible, or bordered by other ingredients, such as crackers. This allows vegetarians some meat-free grazing zones.
Consider the size of your board/platter in relation to the ingredients, cutting food into bite-size portions before compiling.
Halve or quarter WA apples and pears to make them easier to eat; ensure cured meats are thinly sliced – it helps them go further.
Use smaller ingredients, such as cherry tomatoes and strawberries, whole to give the arrangement extra visual appeal (just don't forget a small bowl for discarding any pips or strawberry tops).
Don't forget to decant dips into small bowls and, better still, if you're making your own, select plenty of fresh WA vegetables to create a variety of distinct flavours, including a green pesto, beetroot, roasted capsicum or fresh salsa.
The more people sharing, the more access required – you may need to divide dips and cheese so they are at both ends, or across multiple boards, if you're catering for more than five people.
Fresh is best
Using fresh, locally grown produce enhances the grazing experience and in-season ingredients can be a cost-effective way to diversify the flavours, especially if you remember to hit up your local farmers' market the weekend before.
If you're short on time, simply head to your local grocer and look for produce bearing the distinctive Buy West Eat Best logo. Summer is the perfect time to fill your grazing board with slices of orange, rockmelon and watermelon, as well as whole strawberries and blueberries. Stone fruit from the Perth Hills, South West and Gingin are also starting to emerge from their slumber and we all know how wonderful they look – and taste – on a grazing platter.
Always think about the sources for good dip bases, such as pumpkin, capsicum and avocado, and who doesn't love fresh baby asparagus with their cured meat or simply on its own? It only has a short season so make the most of it!
Hopefully, these tips help elevate your next grazing board. For more on WA's Great Graze, see www.wagreatgraze.com.au.
And, remember, when you think grazing experiences, think West Australian produce — share a platter and raise a glass to everyone who helped bring your bountiful spread to the table.
Visit www.wagreatgraze.com.au