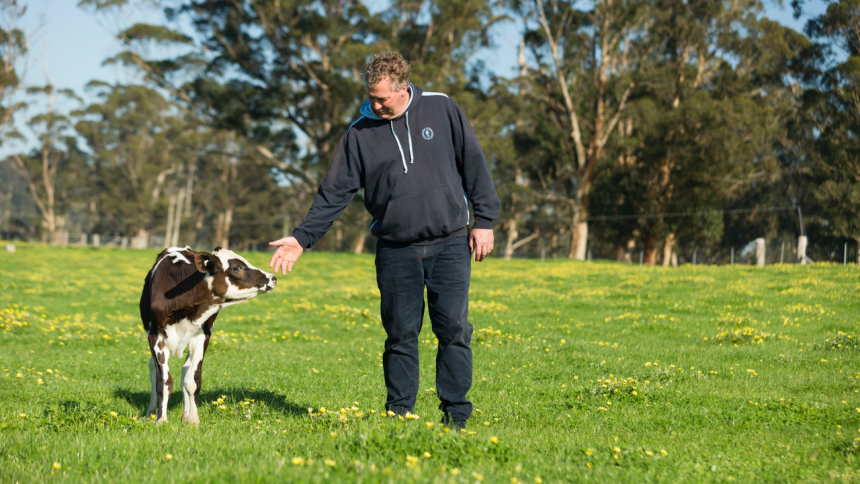 Sue and Mat Daubney are passionate about the health and welfare of their 'Girls' and it shows in the quality of their produce.
Transparency has always been high on the agenda at Bannister Downs, a family-run dairy in Northcliffe. 
Owned and operated by Mat and Sue Daubney, the couple take great pride in ethical and traditional farming practices and natural product.  
"We are dairy farmers because we are passionate about raising healthy cows," Sue says. 
The farm is home to more than 3000 Holstein Friesian and Jersey cows, specially bred and hand-reared to create premium quality milk.  
Fondly referred to as "Our Girls", they are considered part of the Daubney family. Mat knows every cow, her family history, her personality, habits and even her spots. 
"Working with cows is an enjoyable and rewarding experience – seeing generations develop over the years and having individual cows with special personalities that you grow particularly attached to," Mat says.  
"When you sign up as a farmer to be responsible for animals, it is unconditional, caring for them is a priority to the best of our ability." 
And the milk the Girls produce is as natural and fresh as it comes. During the day, the Girls graze on lush pastures, with plenty of shade and shelter and when it's time for milking, they make the way to the Creamery where they can enjoy some tasty grain while the robotic dairy does the work for them. 
"When Bannister Downs milk leaves our property in the truck every afternoon, it is only hours after it has been freshly milked from the cow that same morning," Sue says. 
"Our milk is piped directly from our dairy to our onsite processing facility, where it is pasteurised, homogenised and packaged." 
In line with the business' commitment to providing sustainable, natural product, the dairy is the first in Australia to use the cutting-edge Ecolean packaging.  
The lightweight packaging collapses to completely flat after the product is emptied, breaks down after two years and is made using a minimal amount of raw material – which equals energy saved during production, transport and waste handling. 
Sue says that because Bannister Down's products are natural and packaged sustainably, there's sometimes variations in how they behave. 
"When we talk about the best produce, we think about what we want our children to be eating," Sue explains.  
"We look to avoid things like colours, preservatives, stabilisers, thickeners, gelatine or any additives whatsoever. 
"So sometimes our produce doesn't behave how people might expect it to. If you buy our cream, it may have a skin on it that will thicken over time and that's because it is cream fresh from a cow and that's how real cream behaves." 
To read more about Bannister Downs' farming practices, products and the eco-friendly packaging, visit the website.