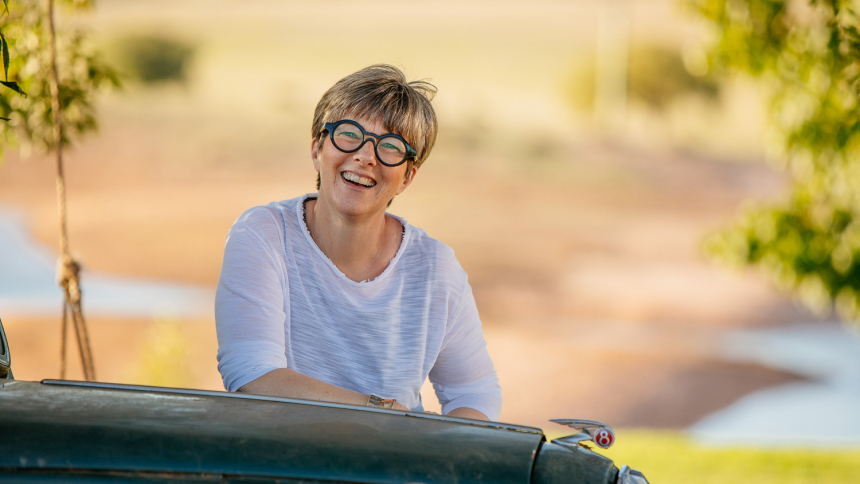 Buy West Eat Best Food Ambassador Tracey Cotterell is passionate about promoting local produce – and is constantly finding creative ways to do so.
Chef Tracey Cotterell has been sharing the secret to fabulous food since she started Matters of Taste 25 years ago.
"When we first started our tagline was 'Cooking for Four Seasons'," she says. "I wanted to teach the importance of using fresh produce that was at its peak and in plentiful supply, so it was affordable and nutritious. There really was no Western Australian seasonal fresh produce education available to home cooks."
And while the business has evolved into so much more than a cooking school in recent years, that passion for local produce remains unchanged.
Indeed, it is integral to everything she and husband Anthony Cotterell do, from hosting food tours, creating content for The Cook's Collective — an online cooking companion packed with recipes and tutorial videos — and putting together divine produce boxes overflowing with local goodness.
Their journey to purveyors of fine produce began on one of Matters of Taste's fabulous food tours to the Southern Forests. The couple teamed up with Manjimup local Anthony East to bring the best of the region's seasonal produce to Perth consumers.
"We also built relationships with many of the dedicated farmers in his network of suppliers. Regenerative farming is widely practised in and around Manjimup, making the farmers genuine custodians of their land," Tracey says.
"All produce from this area tastes so alive, it's super fresh, often having been picked within 24 hours of distribution, so lasts longer and tastes incredible!"
Over time, the couple have expanded the offering to include everything from artisan bread to fresh milk. Matters of Taste's online shop really is a celebration of Western Australian wonders, while The Cook's Collective provides plenty of inspiration on how to prepare the bounty you choose to have delivered.
"We are an everyday provedore sourcing the best and freshest Western Australia has to offer – it's a really fun and exciting way to shop as there's always something new to try," Tracey says.
The Cotterells are also passionate about reducing the use of plastic and packaging in general, sourcing especially made wooden crates from locally grown pine, and special thermal covers to keep food fresh if it's delivered when you're out.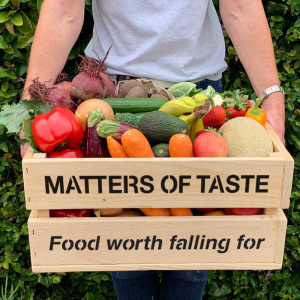 "The crates are personalised with our customers' names and are for their exclusive use, with a variety of produce and pickup or delivery options available," Tracey says.
"My husband is the mastermind behind this initiative, bringing together environmentally conscious, local foodies who believe in the power of small groups to achieve meaningful change."
The bubbly cook says the pandemic only reinforced the need to support WA farmers to ensure we have a consistent food supply into the future.
"We cannot rely on other states or overseas produce to keep us fed. Using local fresh produce makes so much sense," she says. "Why wouldn't you when it tastes so great, too?"
Showing support for local farmers is one of the reasons the Cotterells love leading their popular food tours, experiences that not only involve eating lots of fabulous food but meeting the  people who grow it.
"Being the conduit between city folk and the farming community through our agri-food tours has brought us so much pleasure," she says.
"It will come as no surprise that the Southern Forests region is the top of my list, but I also love to explore all the food centres on our south coast and the Gascoyne."
The couple's food tour to Tasmania, which they have been running since 2016 (Covid permitting) has also been a hit, with November 2022 already sold out.
"I love Tassie's pristine environment and stunning countryside. The community has a real appreciation of local produce, and there's so many brilliant people doing amazing things with food," Tracey says.
They are hoping to head back to her birthplace in the not-too-distant future to lead a food adventure in London and the Costwolds.
Wherever they go, Matters of Taste is all about promoting the very best of local, and there is nowhere Tracey is more passionate about than WA.
"Although our offer has evolved over the years, we are remaining true to our purpose of connecting people to their food, encouraging enjoyment and pride in what we feed ourselves and our family and creating a deeper appreciation of how lucky we are to live in Western Australia," she says.
"I'm a lucky girl to still love what I do, and I look forward to continuing to celebrate local food and cooking for a long time yet!"