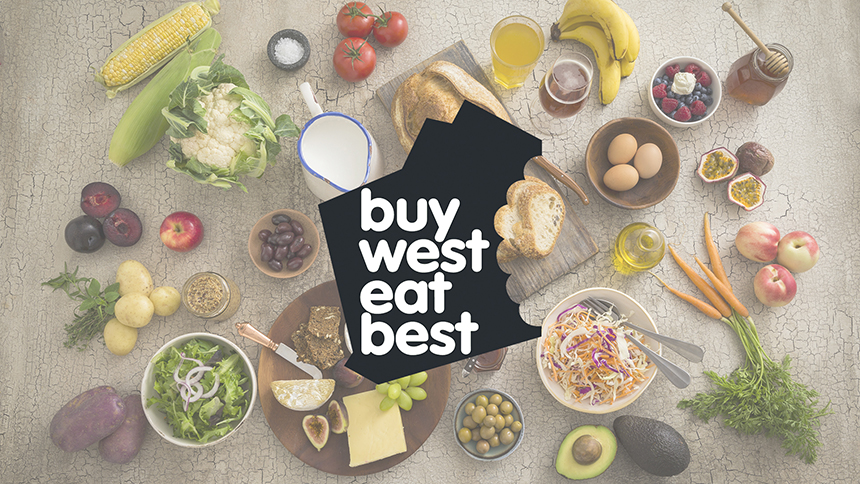 Buy West Eat Best is wrapping up a month of 10th Anniversary celebrations that have acknowledged the simple act of collaboration.
Buy West Eat Best is wrapping up a month of 10th Anniversary celebrations that have acknowledged the simple act of collaboration.
Restaurant events at Houghton Kitchen, and Must; state-wide promotional celebrations at Farmer Jacks, IGA, Coles and Woolworths; a dedicated category for local produce at The Good Food Guide Awards and support from Gold Plate Awards acknowledge the shifting consumer sentiment that demands support for local.
The program has grown from strength to strength according to Department of Primary Industries and Regional Development Director of Food, Deborah Pett.
"The success of the Buy West Eat Best program is a testament to the work and dedication of those involved and demonstrates that food provenance is still at the forefront of WA consumers' interest," Ms Pett said.
Ms Pett highlighted that recent independent market research demonstrated strong Buy West Eat Best brand awareness, with 71 per cent of survey respondents recognising the brand and 90 per cent of respondents more likely to consider buying a product with the logo.
"When retailers applied the Buy West Eat Best logo to a shelf sticker in store, research showed a sales increase of 10 per cent, with one-in-four consumers actively looking for the logo when grocery shopping," she said.
"It must be acknowledged that the non-competitive involvement from all major retailers has changed the way consumers see this program.  Buy West Eat Best is now an essential value of being a West Australian."
Leading Australian demographer and social researcher, Mark McCrindle who visited Perth for the 10th Anniversary, noted that in conducting the Woolworths Trolley Trends Report and other notable reports for the food industry: amidst innovation and pursuit for the next trend, there is a counter-trend, where it's part of a broader thing that Australians are also looking for, something that's wholesome.
"Australians are on the hunt for value, when they discuss value it is broader than just price.  Its value in terms of what they value, so it is about sustainable supply chain, it is about nutrition and the quality of the food. They want real food, not just empty food.
"That's where the source of the food comes in.  There is a premium that they place on local. There is a trust factor and indeed a premium that they place around certain regions and an expectation of a certain quality," he said.
"So that's where there are great opportunities for foods from WA."
Ryan's Quality Meats manager Danny Weir said it was important for WA consumers to support WA businesses, "I believe it is a good campaign and anything that helps WA grow is a brilliant initiative."
"It is just a chance for us to look after our own and support the industry and helps out our local farmers, our local truckies, our local brickies – the whole lot and it all stems through," he said.