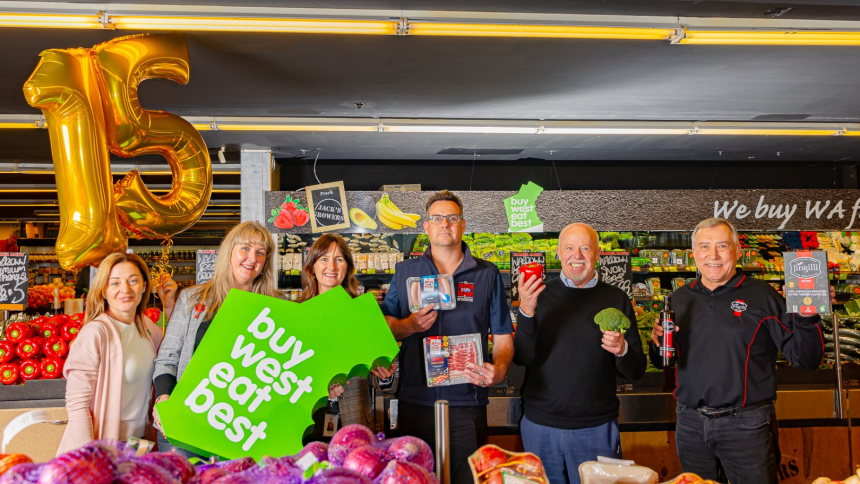 It has been 15 years since we took a bite out of Western Australia. Or, perhaps more accurately, encouraged you to take a bite out of our great state.  
Buy West Eat Best's distinctive bitemark logo grew out of a petition calling for a genuine state-of-origin food labelling program in 2005. While there were other logos and brands indicating a product was local, there was not a single trusted entity that assured Western Australians they were buying something grown or made in their backyard. 
Launched under the former Department of Agriculture and Food in 2008 with just 38 founding members, Buy West Eat Best now has more than 240 members across the state. 
Program manager Melissa Worthington says it is heartening to see how much faith the Western Australian public has developed in the brand in such a short time. 
"Almost nine in 10 Western Australians trust the Buy West Eat best brand and believe it is integral to the local economy," Ms Worthington says. 
"And more than 90 percent of Western Australian grocery shoppers believe it is important for stores to promote the Buy West Eat Best logo." 
And it's not just about brand recognition but what the brand represents. To be able to display that bitemark, the licensee must meet strict criteria: 
Fresh produce, such as fruit, vegetables, meat and seafood, must be 100 percent grown, fished or farmed in Western Australia.

 

Grocery items, such as sauces, yoghurts, cheese, bread or beverages, must feature main ingredients grown, fished or farmed in Western Australia, and the product must be processed and transformed in Western Australia.

 

Western Australian restaurants must commit to using a minimum of 70 percent local ingredients on their menu to join the program.

 
"That means Western Australians can be confident when they buy food or drink bearing the bitemark, or eat at a restaurant proudly displaying it in their window, that they are really supporting local," Ms Worthington says. 
"This support is not only integral to the sustainability of the local food and drink industry, but to the future of all Western Australians, with the Covid pandemic emphasising the importance of food sustainability and strong, local supply chains."  
Buy West Eat Best helps Western Australian producers stand out from the crowd on supermarket shelves and makes it easier for shoppers to discern what is truly local.  
"If you're looking for a sauce or mustard, for example, and you see that logo on a bottle you know that not only will you get a great local product, you'll be supporting local businesses," Ms Worthington says. 
"It's the same when you're shopping for fresh produce. At a time when we're all more conscious of the environment and food miles, being able to see immediately that the fruit and vegetables were grown in Western Australia gives peace of mind." 
Buy West Eat Best's membership is evenly split between Perth and the regions, and represents a wide range of businesses in terms of location, size and scope, as well as industry associations and peak bodies. From restaurants and small producers to supermarket chains, the program captures everything that makes our food and drink industry tick. 
It has also developed from a local food labelling scheme aimed at consumers with a domestic focus, to a supply chain linked approach, with a state-wide, interstate and international focus. 
"Our annual Meet the Buyer event demonstrates how effective the program is in bringing key stakeholders together to promote what our State does so well," Ms Worthington says. 
This year's showcase of the Western Australian food and drink industry is expected to bring more than 150 brands and 600 visitors together under one roof, from buyers and importers to chefs, sommeliers and educators. 
"It's a business, trade and industry event that puts local ingredients and groceries front and centre for retail shelf space and restaurant menus, as well as opening doors to potential interstate and export markets," Ms Worthington says. 
"This is our third event and its growth year on year is further evidence of the way Western Australians have embraced Buy West Eat Best." 
The program is administered by the Department of Primary Industries and Regional Development, supported by industry and championed by business. 
"Most importantly, it is held in great regard by the Western Australian public – it's their support of the bitemark that will ensure we continue to grow for the next 15 years, and beyond," Ms Worthington says.