Gnocchi in browned butter & sage sauce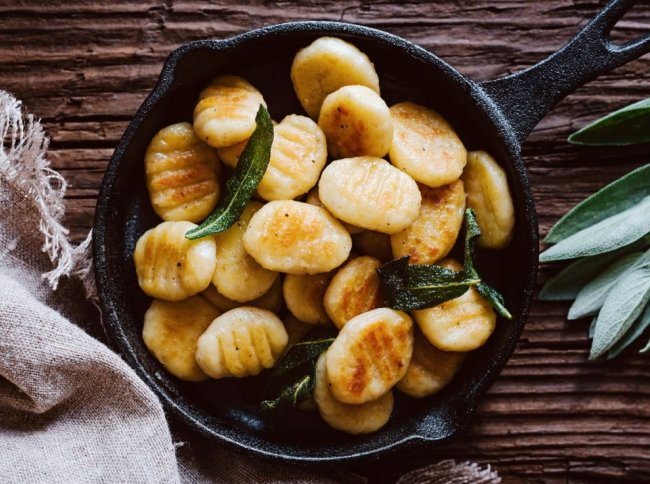 Method
To make the gnocchi, cut potatoes into small cubes and steam until very tender. Allow to cool slightly. 
Mash or push potatoes through a ricer onto a large chopping board dusted with flour. Place egg yolks on top and gently combine with fingertips. 
Add flour and salt and continue to mix with fingers until the mixture comes together and is no longer tacky, adding additional flour as needed.  Roll into one large smooth log, then divide into four equal sized pieces. 
Roll each log of dough out gently on a floured surface using fingertips until 2cm thick.  Slice each log diagonally into 2cm pieces, rolling each piece over the tines of a fork and placing apart from each other on a floured surface. 
Bring a large pan of salted water to the boil. Cook the gnocchi in three or four batches, scooping the dumplings out of the water with a slotted spoon when they float to the surface.  Add immediately to warm sauce. 
To make the sauce, melt butter in a large frying pan over medium-high heat.  Stir in the sage leaves, cooking until the butter turns a light brown colour and the sage leaves darken and start to crisp (about 2-3 minutes).  
Remove immediately from the heat. Add the cooked gnocchi and lemon zest, tossing well to coat. 
Season to taste with salt and pepper.
To serve
Serve immediately, with freshly grated parmesan.