Homemade sausage rolls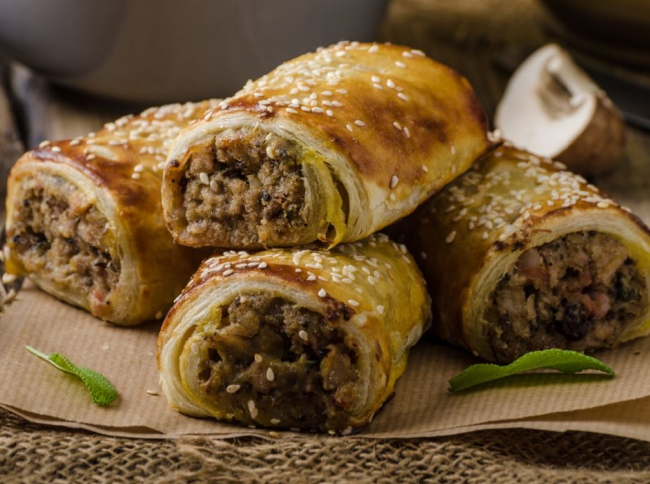 Method
Preheeat oven to 180C and line a large baking tray with baking paper.
Peel and finely slice the onion and cook in a frying pan over medium heat until translucent. Remove from heat and pour into a bowl to cool.
Remove sausages from casing and add to the bowl with the onions, breaking up the meat gently. Add the breadcrumbs and oregano and mix together well, using your hands.
In a small bowl, whisk the egg with a splash of milk.
Separate 3 of the frozen pastry sheets and let them defrost slightly, then slice in half.  Form the meat mixture bake into a sausage shape and place down the length of each pastry piece, in the centre.
Roll the pastry over to enclose the filling, brushing the edge with the egg mixture to help it seal. Repeat with all the mixture.
Place the rolls onto the baking tray, seam side down. Return to refrigerator to chill for 15 minutes.
Remove tray from the fridge and cut the long rolls into the desired length, spreading out the sausage rolls on the tray. brush the pastry with the egg wash and sprinkle with sesame seeds.
Place in the oven and cook for 20 minutes, or until golden.
To serve
Serve with a green salad for a light lunch or mashed potatoes and steamed vegetables for a hearty dinner.