Lamb roast with mint, peanut & garlic sauce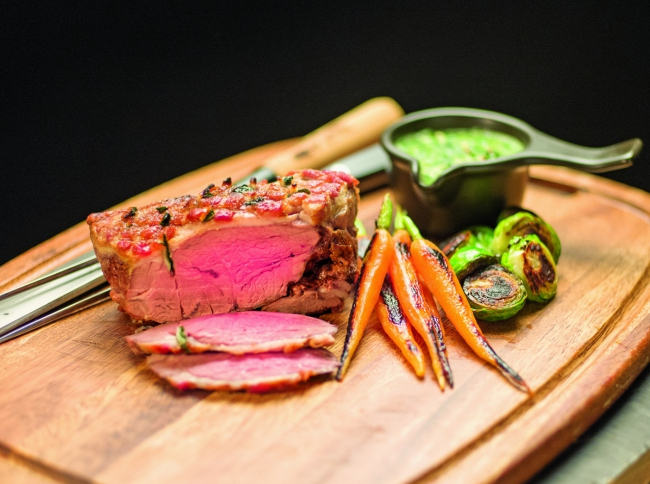 Method
(Recipe provided by Amelia Park Lamb)
Preheat oven to 180C.  Slice two garlic cloves into 10–15 slices. 
To prepare lamb, use a small, sharp knife to make a small incision in the top of the lamb about as deep as the garlic slices are long. Use the knife to push half a mint leaf and a sliver of garlic into the incision. Repeat 10–15 times. 
Place lamb in a roasting dish. Squeeze the juice of half a lemon over and sprinkle with salt and pepper. Rub in and then drizzle with olive oil. 
Bake lamb in the oven until cooked to your liking (20–25 minutes per 500g for medium). 
To make sauce, pound chilli in a morter and pestle, then add the remaining garlic cloves and pound some more. Add the remaining mint leaves, pound some more. Add the peanuts and pound a little more. 
Stir in honey, rice wine vinegar, fish sauce, sesame oil and a squeeze of lemon juice. Check for taste. (Add honey for sweetness, a dash of fish sauce for saltiness or a drop more lemon to sharpen the sauce.) 
To finish, when the lamb is cooked to your liking, remove from the oven.
Rest lamb for 10 minutes on a warm plate, loosely covered in foil, before carving.  Pour off any fat from the roasting dish, leaving behind the pan juices. 
To serve
Serve with the mint sauce, pan juices, charred baby carrots and Brussels sprouts.
Handy Tips
Handy Tip
01
Using a mortar and pestle is a very satisfying way to make the mint sauce, but you can also use a stick blender.
Handy Tip
02
This dish goes beautifully with a glass of Western Australian shiraz.
Back to Recipes