Roasted Exmouth prawns with kohlrabi remoulade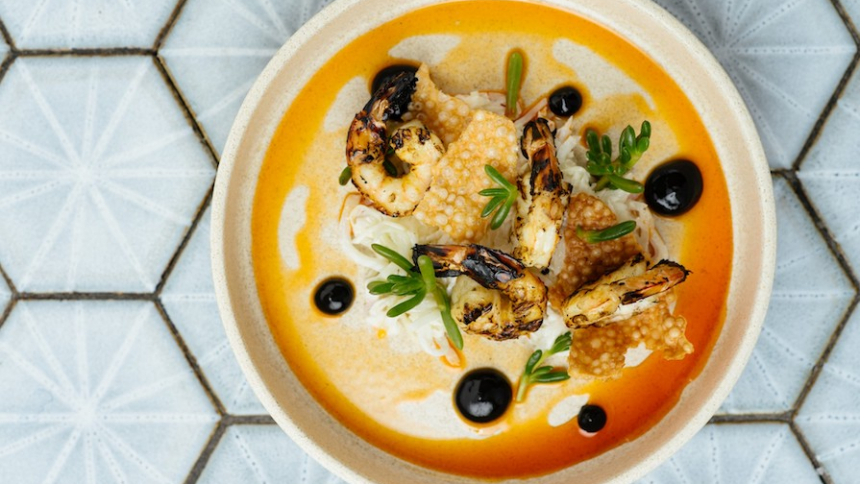 Method
(This recipe is kindly provided by chef Scott Bridger. It will serve four as an entree or light meal.)
Peel and devein the prawns. Set the prawn heads aside for the spicy prawn oil.
To make the kholrabi remoulade, salt kohlrabi and set aside for 20 minutes. Lightly rinse and squeeze dry. Add to a bowl with the garlic, mayonnaise and lemon juice.
To make the black garlic sauce, mix all ingredients in a blender until a fine puree.
To make the prawn oil, sweat the prawn heads in the vegetable oil for 6-8 minutes until fragrant. Add the garlic, fennel and chilli flakes and cook for a further 10 minutes on low, breaking the heads up as much as possible with a wooden spoon.
Add the grapeseed oil and paprika and take off the heat. Leave to infuse for one hour, then strain through a fine mesh sieve.
To prepare the prawns, cook for two minutes on each side on a barbecue or pan on high heat, then rest.
To bring it all together, place the kohlrabi in the middle of the plate and spread gently. Place the prawns on top of the kohlrabi. Spoon the black garlic puree around the kohlrabi and drizzle the spicy prawn oil around the plate.
To serve
Scott likes to garnish this dish with pickled karkalla leaves. Karkalla, also known as pigface, is a succulent found by the coast.
Handy Tips
Handy Tip
01
Kohlrabi, also known as turnip cabbage or German turnip, is a bulbous vegetable related to vegetables such as the cabbage, kale, broccoli and cauliflower. It can be green or purple and eaten raw or cooked.
Back to Recipes