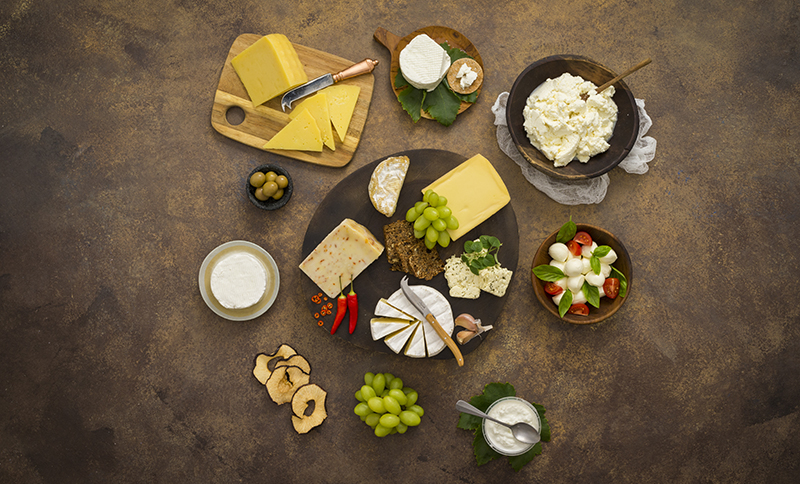 Hosting a crowd, or just having some family and friends around? The key ingredient to throwing an unforgettable get-together with family and friend is not expensive champagne or elaborate decorations - it's showcasing Western Australian cheeses.
Beautiful cheese boards are a great way to entertain guests and there is no need to look beyond our own backyard to find the most incredible varieties of cheese to please any palate. The fertile dairy pastures of WA yield an abundant supply of top-quality cheeses, with options ranging from the delicious Dellendale Creamery Peaceful Bay Gruyere, to the creamy Ha Ve St Duke's Blue.
To get your creative juices flowing, we've put together a few simple tips to create the ultimate cheese board. We've also enlisted Sarah Howlett from The Cheese Barrel, Swan Valley, for a few extra tips. The Cheese Barrel is the newest venture of OliveFarm Wines and is Perth's first licensed fromagerie.
1. Consider the type of cheese board 
Always start by considering whether you are serving the platter before dinner, after dinner or on its own as the centrepiece of the party. If you choose to serve cheese before the main course, choose milder flavours with savoury accompaniments. Try prosciutto, olives, and nuts. After dinner cheese boards feature sweeter accompaniments such as fresh or dried fruit, honeycomb, and sweetened nuts.
2. Selecting cheese varieties
Provide a range of textures and flavours on your cheese board by incorporating a mixture of hard, sharp cheese such as an aged cheddar, a soft cheese like a brie or camembert and perhaps a blue or washed rind for a real flavour punch. Alternatively, you can keep it simple and just present one beautiful large wheel for everyone to dig into. Less can often be more. The general rule of thumb is to cater for 20-30 grams of each cheese per person but no more than a total of 100-120 grams per person.
Why not try some of these stunning Western Australian options:
Over The Moon Organics Farmhouse Feta – A soft and creamy style of feta made from cow's milk with a fine crumb.
Dellendale Creamery Somerset Hill Cheddar – This piquant hard, crumbly cheese offers delightfully complimentary sensations: sweet and salty, yet earthy and tangy.
Ha Ve Havarti – A popular mild taste and flexible texture,
Margaret River Dairy Company Port Cheddar – By infusing port to the Cheddar there is a rich and subtly sweet taste to the cheese.
3. Select cheese complements
Be sure to include a range of other condiments to complement the cheese and add some colour to your platter. Sarah Howlett from The Cheese Barrel says colour and texture are the secrets to creating a memorable cheese board. "The first part of eating is through the eyes so it's important to capture the imagination with vivid colour and inviting textures."
Add preserves such as a quince or pear paste, fresh fruit such as apple, pear or nashi, dried fruit and nuts. Thought should be put into the flavour combinations that work best.
Some favourable combinations on cheese boards are:
Dellendale Ocean Brie with red grapes or strawberries. Look out for Berry Sweet Strawberry Farm strawberries, fresh from Bullsbrook WA.
Ha Ve Harvey Cheese St Duke's Blue with fresh fig or pear slices.
Margaret River Dairy Company's Smoked Cheddar with quince paste.
One of the latest food trends is the sublime combination of goats cheese and honey. It's our new favourite after dinner treat (especially when we can source it from WA producers).
"Spread it on bread or spoon it straight into your mouth. The contrasting creamy acidity with sweet honey makes my taste buds sing," Howlett says.
4. Prepare the cheese
Most cheese will need to be removed from the refrigerator at least 30 minutes before serving to allow them to come to room temperature. Pair each cheese on the serving plate or board alongside their best-suited accompaniments. Provide a separate knife for each cheese to avoid mixing cheese flavours. Soft cheese spread well with a butter or pate knife, firm cheese may require a paring knife and aged cheese is best served with a cheese plane.
Be sure to take a snap and use #buywesteatbest to show us your cheese board at your next event or gathering with family and friends.