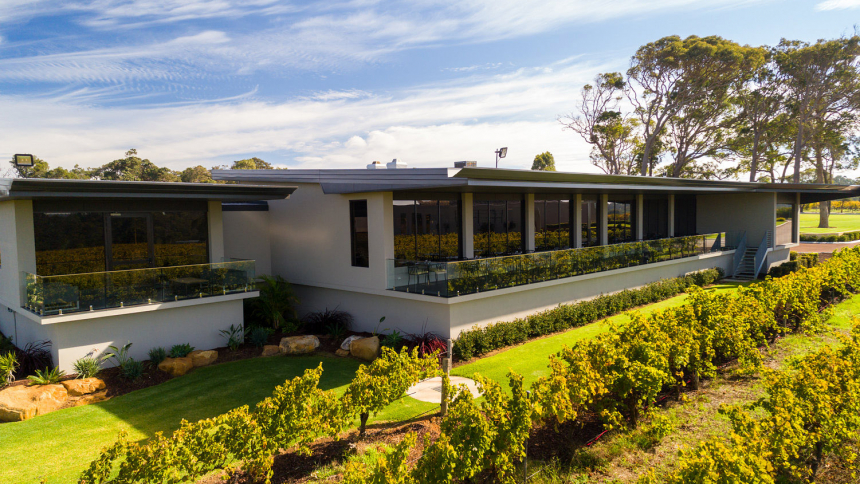 When restauranteurs Blair and Renee Allen received an offer too good to refuse, the move took their passion for local produce to a whole new level.
Chef Blair and front-of-house whiz Renee were running their popular Dunsborough eatery, Piari and Co., when they received an unexpected proposal. 
Amelia Park Winery owner Peter Walsh wanted to know if they would be interested in helping to design a restaurant on the Margaret River site, and then lease it.  
"Piari and Co. Was a great introduction to owning our own business but in order to expand we needed a larger venue," Blair recalls. "Peter made us an offer we would be silly to refuse." 
The purpose-built Amelia Park Restaurant opened in 2017, and Blair draws on plenty of inspiration from the vineyard the venue overlooks. 
"We always consider the wines when writing our menu but we also have the flexibility of a fully licensed bar with the options of cocktails, draught beer, spirits and aperitifs," he says.
"Ultimately, we write our menu based on what we think our clientele are looking for when they come to Amelia Park." 
Blessed with an abundance of quality local produce at his fingertips, the chef is hard pressed to pick a favourite because everything is "top shelf". 
"Our lamb is all grown in the South West, Great Southern and Wheatbelt to a specific profile and we are supplied direct from V&V Walsh, so we know it will always be great quality lamb with a nice proportion of fat to tender meat," Blair says.  
"Our beef comes from the Great Southern and we dry age it in a special fridge, visible from the restaurant. Wagin Duck and Game supply us with lovely duck and amazing quail direct from the farm." 
They get their fish from 34 Degrees Blue, which has the benefit of being based in the Margaret River region. "They have access to local fisherman catching beautiful fish like Nannygai, Hapuka, Pink Snapper and of course, Dhufish," Blair says.  
"Blue Ridge Marron supply us live marron and fresh rainbow trout and we also use companies like Endeavour Foods for things like Rottnest scallops and Fremantle octopus." 
The Garden Basket takes care of all their fruit and vegetable needs, all sourced as much as possible direct from local producers, and the restaurant only features local cheeses. "Our favourite is Cambray Cheese in Nannup," he says. 
The creative chef is not averse to sourcing from further afield, if need demands, but he's always looking for Western Australian produce. 
"Sometimes during less favourable boating conditions our fish come from further north in places like Geraldton, Carnarvon, Exmouth or further south like Albany and Esperance," he says.  
"I'm always excited when I can source product from the Wheatbelt as I grew up there and it seems any fruit and vegetables coming out of the Southern Forests region is the best." 
Amelia Park Restaurant has built a reputation for the quality of signature dishes featuring produce cooked over his specially made jarrah-fed woodfired oven and grill. 
"Meat cuts with a bone attached and a good amount of fat really cook well over the wood grill and the flavour achieved can't be replicated cooking over gas burners or in a sous vide bath," Blair maintains.  
"The burnt or charred bits are often the best and the fat renders down beautifully. Often I get asked how I like my meat cooked, and I always say I'm not fussy as long as it has a beautiful char on the outside and is at least a little bit pink in the middle." 
And while Renee keeps the restaurant looking as stylish as any fine-dining establishment, the couple don't mind if their guests use their hands – in fact, Blair loves it when they do! 
"We leave the bones on our lamb racks and rib eyes untrimmed and love it when we see customers picking up the bones and picking them clean," he says. "This is often the best bit and also prevents the bones from burning and giving off an acrid odour.  
"Our slow roast lamb shoulder is finished in the wood oven too and we achieve a beautiful deep coloured glaze on top, the darker the better." 
In fact, there's not much that Blair doesn't think tastes better after a spin in the oven, especially vegetables such as cabbage, broccoli, baby carrots and cauliflower. 
"Fremantle octopus has always been on our menu and works really well being grilled over coals before being coated in a nice glaze." 
Whatever Blair and Renee dish up, you can be sure it will not only taste great but offer real value for money – in a truly stunning location.