Alfajores Peruano (caramel shortbread)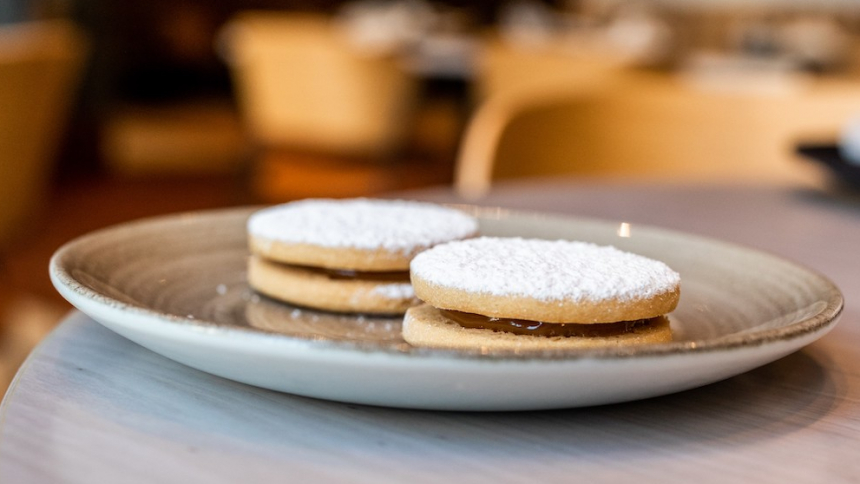 Method
To make the dulce de leche (caramel), place sealed cans of condensed milk in a pot and fill with water until covered.
Boil for four hours, topping with water as required to prevent scorching.
Remove and allow to cool before pouring out to place between the biscuits.
To make the biscuits, combine all the dry ingredients except the icing sugar.
Rub butter into the dry mix. Once incorporated, add the icing sugar and knead until well combined. Add a little iced water as needed to facilitate the mix.
Portion dough into a workable size and roll out on a floured work surface until about 3mm thick.
Preheat oven to 170C, cut the dough into biscuit shapes with a 6cm cutter and place on a lined tray. Refrigerate for 10 minutes.
Once oven has been brought to temperature, place tray of biscuits in the oven and bake until pale in appearance (about 10 minutes). Allow to cool at room temperature.
To assemble the alfajores, dollop a generous spoonful of the dulce de leche on one biscuit and top with the other half. Repeat until all done. Dust with icing sugar before serving.
Handy Tips
Handy Tip
01
Alfajores don't have a direct translation but are often described as "cookie sandwiches", which is a nice way of putting it. Dulce du leche isn't strictly caramel, but it tastes like the best caramel, so there's that.
Handy Tip
02
Of course, if you can't be bothered keeping an eye on the stove for four hours, you can cheat and buy dulce du leche or caramel in a can. (We won't tell.)
Back to Recipes