Apricot & walnut flan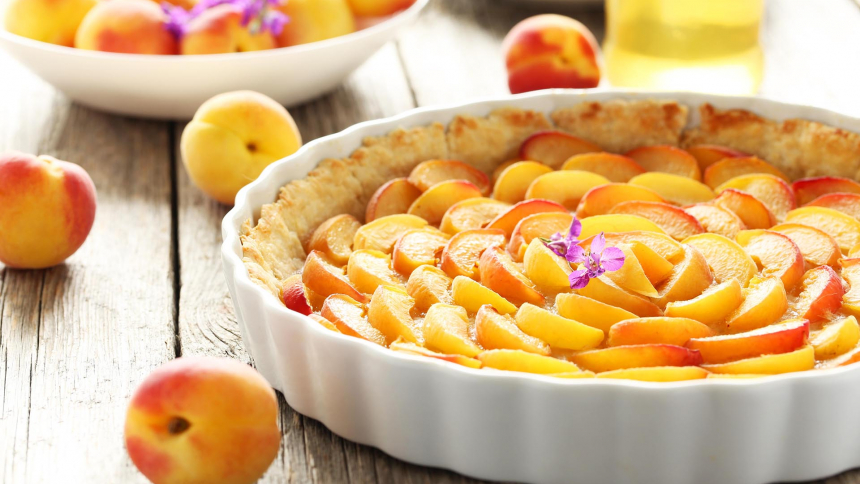 Method
Lightly toast the walnuts in a dry frying pan. Cool, then pulse in a food processor to make coarse crumbs. Add the flour, salt, butter and sugar and pulse to combine to a crumb-like consistency. Add the beaten egg and pulse until the pastry starts to come together.
Transfer to a lightly floured cutting board and gently press together to form a ball. Wrap in clingwrap and refrigerate for one hour. 
Preheat oven to 180C. 
Roll the mixture out on a lightly floured bench and line a 20cm tart tin. Press the pastry into the tin, pricking it with a fork around the base, then add a layer of baking paper and top with pastry weights. Refrigerate for 10 minutes, then blind bake for 15 minutes, until the pastry is a golden colour.
Remove the weights and baking paper, return to the oven for five minutes to brown the base, then remove from heat and cool slightly. 
While the pastry is cooking, slice the apricots in quarters and discard the kernels. Whisk together the cream, egg yolks and sugar.
When the pastry has cooled slightly, arrange the apricots, skin up, inside the pastry shell in rings. Drizzle with the cream mixture and return to the oven to bake for 30 minutes.
To serve
Allow the tart to cool a little before cutting and serve with cream or ice cream.