Barramundi burger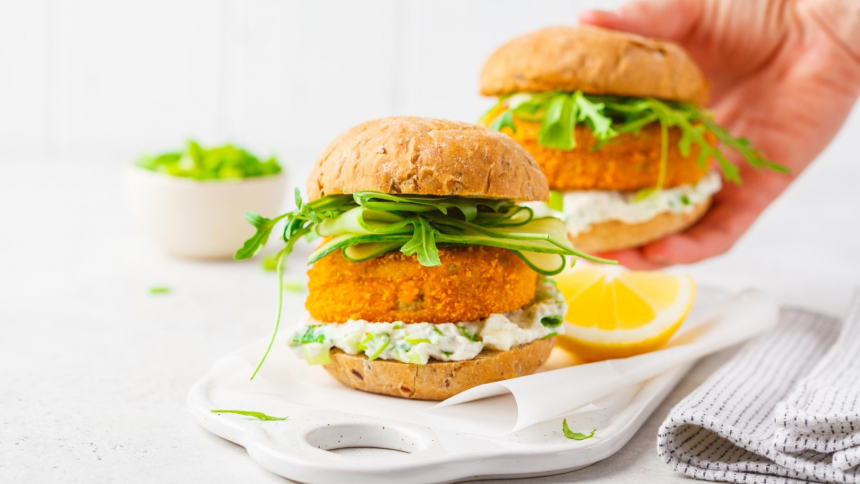 Method
(This recipe was created by Mark Yates and supplied by Catalano's Seafood.)
To make the tartare sauce, place the gherkins, capers, onion and herbs into a food processor. Pulse until the ingredients are a rough paste but not too fine, as you want a slightly chunky texture for the sauce.
Place the mayonnaise into a bowl and carefully pour in the paste from the processor. Add the lemon juice and fold through until well combined. Season the sauce with pepper and a touch of sugar to balance the tart and salty taste.
To make the fish burgers, put the flour, egg wash and panko crumbs in separate shallow bowls.
Coat the fish portions in the flour, then dip in the egg wash and roll in the panko crumbs. Once coated, place onto a plate and put into the refrigerator to chill.
Heat the oil in a large frying pan and place the barramundi into the pan. Cook for three to four minutes on each side until cooked through.
Mix the lettuce with some of the tartare sauce and place on the base of the bun. Gently place the barramundi fillet on top, then layer with cucumber and onion.
Spread some more tartare sauce on the other side of the bun and place on top.
To serve
Serve with a side of freshly cooked wedges or, for an authentic burger dish, some coleslaw, onion rings and a pickle.
Handy Tips
Handy Tip
01
Chill the crumbed fish before frying as this will help the crumb stick.
Handy Tip
02
The recipe makes about 1kg of tartare sauce, which will last for two to three month in an airtight container in the fridge.
Back to Recipes