BBQ seafood platter & aioli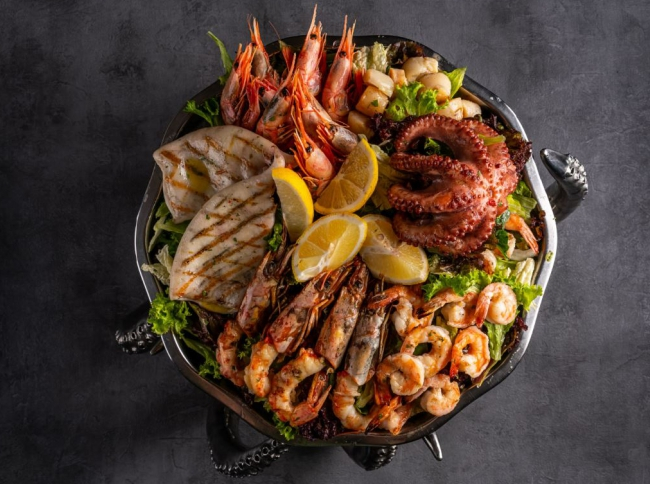 Method
Rinse the octopus tentacles under cold water and bring a saucepan of water to the boil.
Once boiling, salt the water and add the octopus. Simmer for 20 to 25 minutes, or until the octopus is tender enough to pierce easily with a skewer. Drain and cool.
Score the squid hoods diagonally both ways. Heat a BBQ hotplate to medium high.
Combine the oil, garlic, lemon juice and zest and thyme leaves and brush over all the seafood.
Cook the seafood for 2–4 minutes on each side or until charred and just cooked through.
If you do not have enough room on your hotplate, cook in batches and keep warm on a plate as you go.
To make the aioli, combine the egg, garlic, salt and a third of the olive oil in a food processor.
Pulse until combined. Continue processing, drizzling olive oil in slowly, until sauce begins to thicken.
Add the lemon juice and process until you reach the desired consistency. Taste and add salt if needed.
To serve
Arrange the grilled seafood on a bed of lettuce on a serving platter, with scattered lemon wedges.
Put the aioli into little bowls for guests to dip their seafood in as desired.
Handy Tips
Handy Tip
01
You can parboil the octopus and prepare the aioli a day ahead to save time. Keep in the fridge until ready to cook.
Handy Tip
02
You can add different seafood, such as WA crayfish tails, mussels and firm white fish to your platter, depending on seasonal availability.
Back to Recipes