Beef involtini (Italian beef rolls)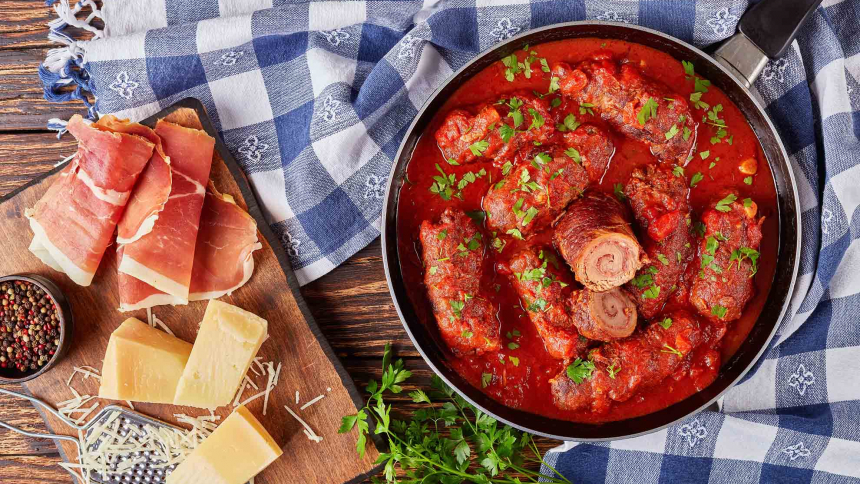 Method
Slice the sirloin roast into 12 thin fillets. Placing each slice between a sheet of cling wrap, pound the meat with a meat mallet or rolling pin until it is about ½ cm thick. Set aside. 
In a medium bowl, combine breadcrumbs, cheese, parsley, garlic, three tablespoons of olive oil and salt and pepper to taste. 
Add a small amount of the breadcrumb mixture to the centre of each slice of meat and spread it across the fillet, pressing it down into the meat. Lie a slice of prosciutto on top of the crumbs and roll up the meat from one end to the other to make a sausage shape.
Secure with a toothpick and repeat for each slice of beef. 
Heat the remaining olive oil in a large frying pan over medium-high heat. Sear each roll on all sides until golden brown, about 2 to 3 minutes per side. 
Pour in the wine and cook for 2-3 minutes before adding the passata. Place a lid over the pan and simmer over low heat for 1 hour. 
To serve
To serve, remove the toothpicks and slice. 
Handy Tips
Handy Tip
01
It is easier to slice the sirloin thinly if it is slightly frozen, or you can ask your butcher to do it for you.
Handy Tip
02
Involtini can be served with pasta for a hearty meal, or a simple salad of rocket and spinach for a lighter meal.
Back to Recipes