Butterflied leg of lamb with baked veg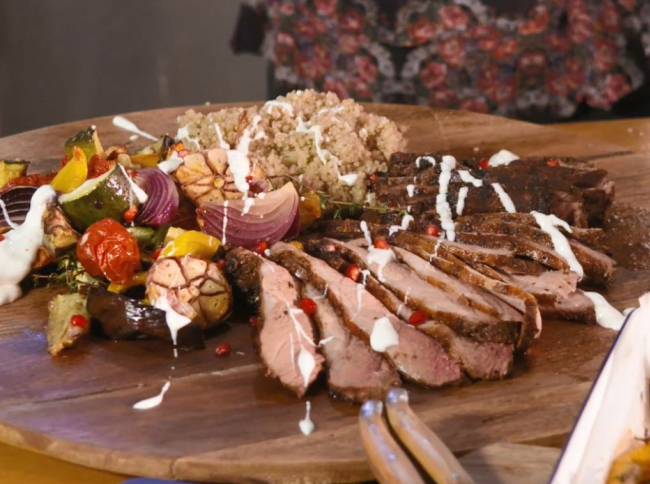 Method
(Recipe by Anna Gare)
Preheat oven to 180C. 
To make spice rub, pound cumin and coriander seeds in a mortar and pestle until smooth.
Then add the rest of spice mix ingredients and pound until a paste consistency.
Rub the paste all over the lamb, put aside to bring to room temperature before grilling on BBQ. 
To make the vegetables, cut them all to a similar size (about 3xm x 4cm) and scatter over lined baking tray.
Top with thyme sprigs, drizzle with olive oil, vinegar and sprinkle with salt and pepper.  
Bake in oven for 45 minutes. 
Barbecue the lamb, skin side down first, over medium heat for about 20 minutes on each side.
Rest lamb in a warm place for 15 minutes before slicing. 
While lamb is resting, make quinoa according to the packet instructions and combine yoghurt sauce ingredients. 
Click here to follow along with Anna Gare via this video.
To serve
Arrange lamb, baked vegetables and quinoa on a large platter or board.
Drizzle with yoghurt sauce and pomegranate seeds