Chicken wonton soup with Asian greens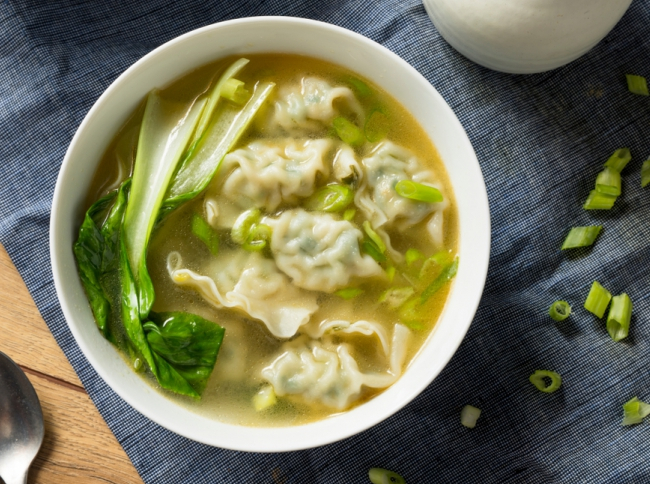 Method
Combine chicken mince, garlic, ginger, spring onions, sauces and oil in a large bowl and mix well with hands.  
On a dry work surface, place one wonton wrapper at a time and spoon a heaped teaspoon of chicken mixture into the middle of the pastry.
Lightly brush water around the filling and pinch the wrapper closed to seal the wonton.
Set aside on a clean plate.  Continue until all wrappers/filling have been used. 
To make the soup, place chicken stock, rice wine and soy sauce in a large saucepan and bring to the boil.
Reduce heat to a simmer and add Asian greens. 
After 2 minutes, add wontons and sesame oil and cook for 5 minutes to finish.  
To serve
Use a slotted spoon to divide wontons and Asian greens among serving bowls, then ladle the soup over.  Garnish with finely sliced spring onion tops.  
Handy Tips
Handy Tip
01
Asian greens include bok choy, choy sum, gai lan (Chinese broccoli) and wombok (Chinese cabbage).
Handy Tip
02
Fresh wonton wrappers can be found in Asian grocery stores or the refrigerated fresh pasta area of major supermarkets.
Back to Recipes