Crispy skin barramundi on Asian greens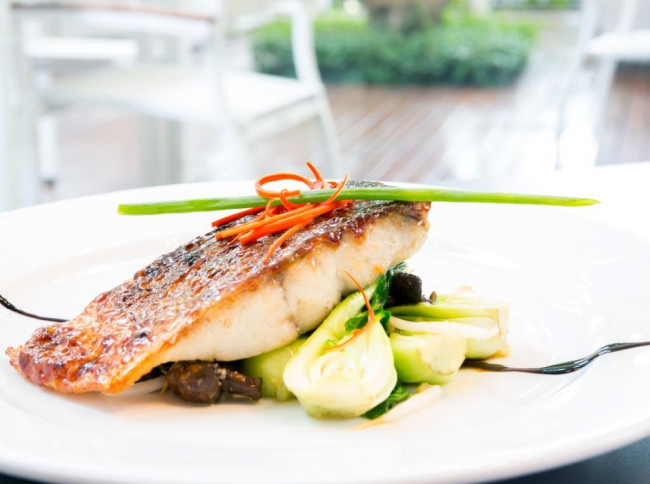 Method
Place barramundi fillets skin side up on a plate. Pat dry with paper towel then place in the fridge, uncovered, for 30 minutes. 
Meanwhile, wash and slice Asian greens and spring onions into even pieces. Finely slice peeled ginger and garlic. 
Heat 2 tbsp vegetable oil in a heavy-based frying pan until hot. Remove fillets from fridge and season skin with salt before placing skin side down in the pan. 
Cook fish for 2-3 minutes in the pan, then gently turn and cook for another 2 minutes. Remove from pan and cover to rest. 
Heat 2 tbsp vegetable oil in a wok and cook ginger and garlic until fragrant. Add remaining vegetables and cook, tossing constantly, for 1-2 minutes until just cooked, adding soy sauce.
Remove from heat and drizzle with sesame oil. 
To serve
Use tongs to arrange stir-fried vegetables in a pile in the centre of each plate, then gently place the barramundi on top, skin side up. Garnish with julienne carrot if desired.
Handy Tips
Handy Tip
01
Asian greens include bok choy, choy sum, gai lan (Chinese broccoli) and wombok (Chinese cabbage).
Back to Recipes