Crispy skin barramundi with green mango & soybean salad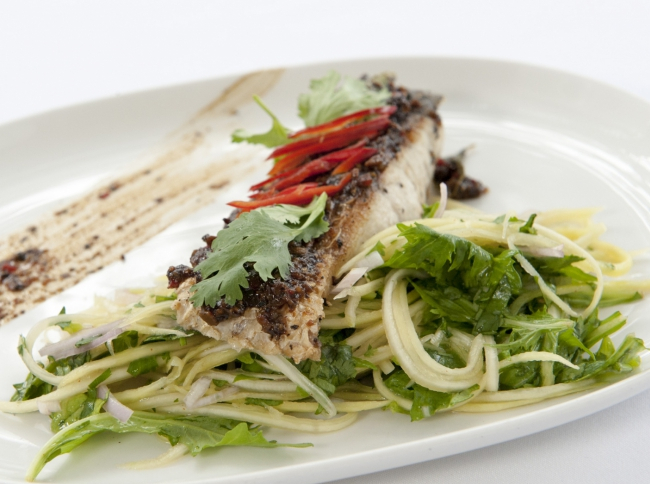 Method
Preheat oven to 180C. Heat olive oil in a frying pan until hot and just smoking.
Season the skin side only of the fish with freshly ground black pepper and WA Lake Salt.
Cook for about 3 minutes until skin is crisp.
Remove pan from heat and place on a tray in oven for 6-7 minutes. Remove and keep warm.
To make the black pepper glaze, heat another pan and fry minced garlic, grated ginger, curry leaves and chopped chillies in a teaspoon of oil until fragrant.
Add crushed fermented soybean sauce, milled black pepper, palm sugar, kecap manis and about 100ml water.
Simmer on low heat until mixture resembles a glossy, dark glaze.
To make the soybean dip, shell edamame and blanch beans in hot water. Save some beans for the garnish and salad.
Place hot beans and a touch of water in a blender to process until smooth.
Add knob of butter and season to finish.
For the green mango salad, combine lime juice, fish sauce, chilli sauce and palm sugar and mix well.
Toss through sliced green mangoes and shallots and a few whole soybeans.
To serve
Spread a small amount of soybean dip on one side of a plate and nestle crispy skin barramundi next to dip.
Sprinkle fresh coriander sprigs over green mango salad and place next to the fish.
Garnish the dish with the remaining fresh soybeans and dressing.
Brush black pepper glaze on barramundi skin just before serving.
Handy Tips
Handy Tip
01
The Rockcliffe Single Site riesling 2015 is a great match for this dish.
Back to Recipes