Festive pavlova layer cake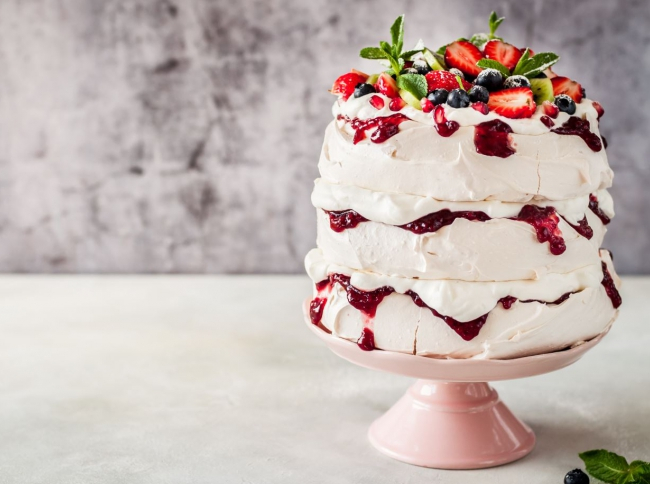 Method
Preheat oven to 120˚C and line three oven trays with baking paper.
Trace around a small dinner plate or cake tin base (20cm diameter) to make three equal-sized circles on the paper.
Add egg whites into the bowl of a stand mixer with a whisk attachment. Beat on medium high, until stiff peaks form. Gradually add caster sugar, beating to dissolve between additions.
Mix cornflour and vinegar together in a cup, then add to egg white mixture and beat for another 2 minutes. Stir in vanilla essence.
Divide the meringue mixture evenly between the three circles, using a palette knife to swirl into even discs.
Bake meringues for 1 hour 15 minutes, until crisp and dry but not browned. Turn oven off and leave door ajar for 1 hour or until meringues have completely cooled.
To prepare the strawberry sauce, pulse the chopped strawberries with ¼ cup caster sugar in a food processor or blender.
Transfer the mixture to a saucepan and cook over medium heat, stirring continuously, for 10 minutes. Strain and transfer refrigerator to chill.
To make the cream filling, whisk the cream with icing sugar and vanilla until sugar dissolves.
To assemble, carefully peel baking paper from a meringue disc and place onto serving plate.
Add a generous ladle of strawberry sauce (enough to spread to edge of the meringue and drip over), then top with a third of the cream.
Repeat with the second and third layer. Arrange strawberries, blueberries and kiwi slices with mint leaves on top of final layer.
To serve
Dust with icing sugar and serve immediately.
Handy Tips
Handy Tip
01
The meringue base and the strawberry sauce can be prepared the day before serving. Store meringue discs in an airtight container to prevent them from softening.
Handy Tip
02
For best results, assemble the pavlova layer cake up to an hour before serving, to avoid the meringue losing its crunch.
Back to Recipes