Grape & rosemary foccacia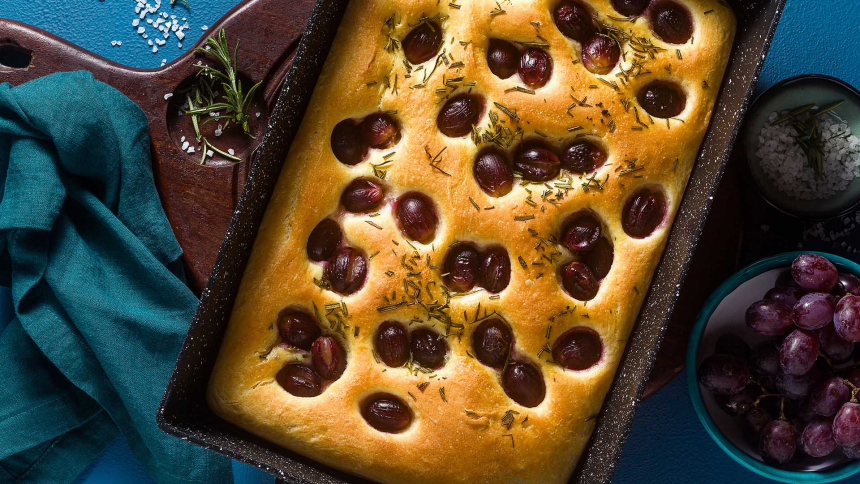 Method
Put lukewarm water in a jug and add the yeast, honey and two teaspoons of the olive oil. Stir to combine. Rest for a few minutes until the yeast starts foaming.
Put the flour and one teaspoon of salt flakes into a large bowl and make a well in the centre. Pour the yeast into the well and slowly mix the liquid into the flour until it is all combined. If the mixture is too dry to form a ball, add a little more lukewarm water until it comes together.
Turn the dough onto a lightly floured surface and knead for 10 minutes, until smooth and springy. Put the dough in a clean, oiled bowl, cover and rest in a warm place for an hour, until it has doubled in size.
Oil a rectangular, shallow 25cm x 35cm pan. Turn the risen dough back on to a lightly floured board and shape it into a rectangle that fits just inside the pan. Cover with a clean tea towel and leave in a warm place to prove for about 35 minutes.
When the dough is almost ready, preheat the oven to 180C. Brush the dough with one tablespoon of olive oil, then press the grapes evenly across the surface. Sprinkle the rosemary and remaining salt on top and bake for about 30 minutes, or until golden.
Handy Tips
Handy Tip
01
This is delicious served warm from the oven but can also be cut and frozen to be put in lunch boxes.
Back to Recipes