Guava paste (goiabada)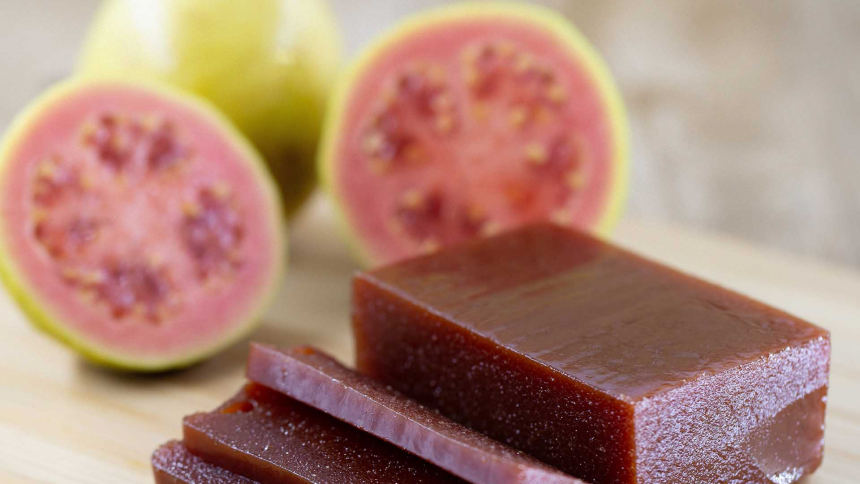 Method
Wash and peel the guavas, reserving the peel.
Halve the guavas and scoop out the seeds, then roughly chop the pieces. Place in a food processor, pulsing until the fruit becomes a smooth, even paste.
Using a spoon, push the paste through a sieve into a clean bowl and set aside.
Add the sugar and water to a saucepan and stir over high heat until the sugar dissolves and the liquid starts to boil. Stop stirring and leave to boil for five minutes.
Gently add the puree and a quarter of the reserved peel into the syrup, then bring back to the boil, stirring.
Reduce the mixture to a simmer and continue stirring until the liquid reduces to a fudge consistency (about 20 more minutes). When it has thickened stir in the lemon juice.
Spray a shallow ceramic or tempered glass dish with cooking spray and pour in the mixture. Rest until cooled to room temperature and then chill in the refrigerator for another there hours until solid.
Once cooled, remove carefully from the serving dish and slice into pieces to serve.
To serve
Slice and serve on a cheese board or grazing platter.
Handy Tips
Handy Tip
01
This traditional Brazilian dessert made from ripe guavas makes a stunning jewel-coloured addition to a cheese board or grazing platter.
Handy Tip
02
You can keep the guava paste in the refrigerator in an air-tight container for up to three months.
Back to Recipes