Honey glazed Christmas ham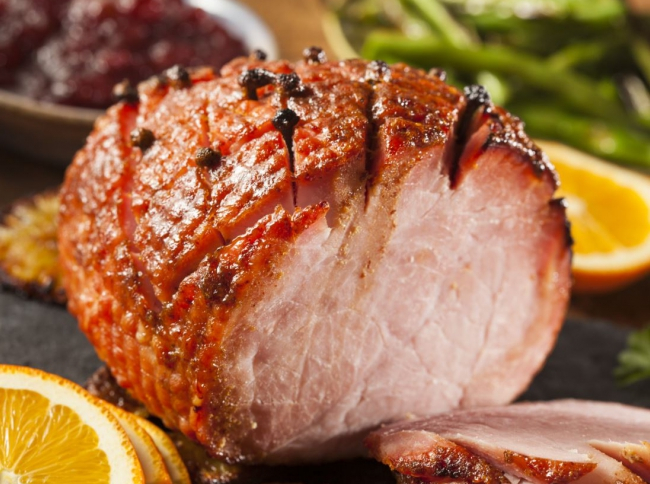 Method
Remove the rind by inserting a sharp knife just underneath the rind and slicing between it and the fat.
If you are cooking ham on the bone, you will first need to score a line around the end of the ham near the bone.
Gently separate the rind by inserting your fingers between the layers until it comes free. Use the knife to score a diamond pattern into the surface of the fat. Push a clove into the middle of each diamond.
Rest the ham at room temperature for 1 hour before cooking.
Preheat the oven to 150C and line a large baking dish with baking paper. Place the ham in the baking tray and pour the pineapple juice around it. Cover the ham with foil and bake for 15 minutes.
Meanwhile, melt heat the butter in a small saucepan over medium heat until golden. Add honey and brown sugar and stir until the brown sugar has completely dissolved. Reduce the heat to low and bring to a gentle simmer. Remove from heat and allow to cool to lukewarm.
Remove the ham from the oven and increase the oven temperature to 220C.
Discard the foil and pour a third of the glaze all over the ham, brushing it into the cuts with a basting brush. Return to the oven and bake uncovered for 15 minutes.
Remove ham from the oven again and brush with another third of the glaze and some of the pan juices. Repeat after another 15 minutes with the final bit of glaze and bake for 30 minutes or until the glaze is a deep golden-brown colour.
Rest, covered, for 15 minutes before slicing and serving.