Mango crème caramel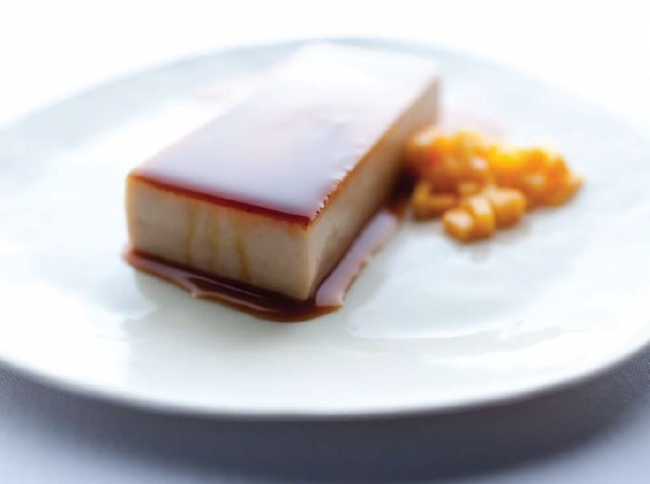 Method
Preheat the oven to 160C. 
Bring a full kettle of water to the boil and turn off the heat. (This is for the water bath later.) 
Dissolve the first lot of sugar for the topping in a saucepan with 60ml water, and boil until it turns a dark, fragrant, liquid caramel. Pour into the moulds and swirl to coat the bottom evenly. Set aside. 
Pour the milk into the same saucepan, so that it laps up the caramel on the bottom and sides. (This is the most brilliant trick for flavour!) 
Split the vanilla bean, scrape the seeds into the milk. Heat to boiling point, turn off the heat, cover, to infuse for 10 minutes. 
Meanwhile, beat the eggs with the other sugar. Add the nutmeg (optional). 
Once the milk has infused, whisk it into the egg mixture. Strain the custard over the hardened caramel and set the pan in a larger dish or roasting pan. 
Pour the boiled water into the bottom pan to come half-way up the sides of the moulds. Transfer to the oven and bake until set, 30 to 40 minutes. 
Remove the moulds from the oven and from the water bath. Run a knife around the outside edge to loosen. Cool completely – even chill, if you like.  
To serve
Score the mango cheeks with a sharp knife to make a lattice, sprinkle with sugar and torch with a blowtorch. Flip the caramel mould onto a plate, pour over any caramel remaining in the pan, and serve with mango.  
Handy Tips
Handy Tip
01
Bannister Downs' Mango Latte makes cooking this otherwise complex dish a dream. All the flavours are balanced and ready for you, plus you can get a mango fix when they are out of season.
Back to Recipes