Mediterranean potato gratin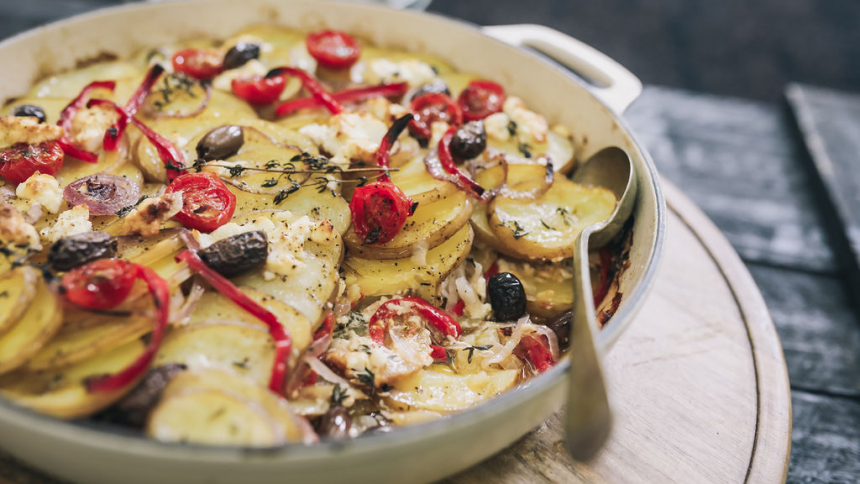 Method
(This recipe created by Kate Flower, of Kate Flower Food, and kindly supplied by WA Potatoes)
Preheat oven to 150C.
Grease a shallow baking dish or heavy pan with a little oil. Cover the base with a single layer of onion rings from one and a half onions then top with a layer of potatoes, using half the rounds. 
Cover the potato with two thirds of the cherry tomatoes, followed by 20 olives, and sprinkle two-thirds of the capsicum across the dish.
Cover with thyme leaves and crumble two-thirds of the feta over the top. Season with salt and pepper and drizzle with two tablespoons of olive oil.
Use all the remaining rounds of potatoes, evenly spreading them over the top. Drizzle the remaining olive oil over the potatoes, then finish the dish with the remaining onion, tomatoes, olives, thyme and feta.
Pour the stock evenly around the sides of the dish and season. Place in the oven with a tight-fitting lid or cover with baking paper and foil. 
Cook for two hours, or until the potato is fork tender. Remove the lid and cook for a further half an hour, or until the top browns. You can turn up the heat for a crispier finish if you choose.
Remove the gratin from the oven and allow it to sit for 10 minutes before serving.
To serve
Serve with leafy greens and balsamic dressing. It also goes well with barbecue meat or pan-fried fish.
Handy Tips
Handy Tip
01
This heartwarming gratin skips the cream in favour of olive oil and stock. If you'd like to go vegan, swap the feta for vegan cheese or yeast flakes for a deep savoury umami.
Handy Tip
02
With a little effort, you can keep the potato rounds laid out neat as a pin and create a particularly beautiful dish to display (as well as eat)!
Back to Recipes