Poached lobster salad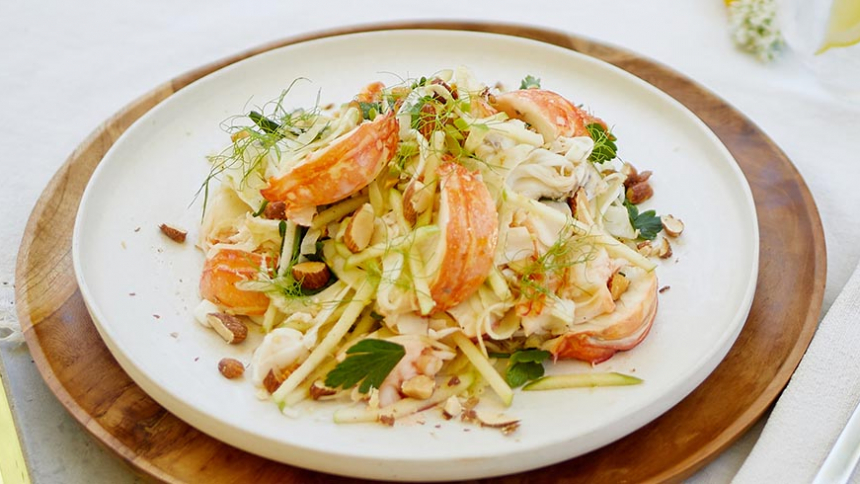 Method
(Recipe created by chef Scott Bridger and kindly supplied by the Western Rock Lobster Council)
Fill a large pot with enough water to completely cover lobsters. Add the salt and bay leaf and bring to boil. 
Place lobsters into water and cook for 5 minutes. Remove lobsters from water and rest for 15 minutes at room temperature. Remove lobster meat from shell and reserve in the fridge. 
Cut the green apple into matchsticks and cover with lemon juice.  
Shave the fennel on a mandolin, or slice as thin as you can with a knife. Remove fronds from the stalks and reserve for garnish. Place shaved fennel in a bowl with the apple. 
Wash and roughly chop parsley and chives and add to the bowl with the chopped almonds. Drizzle with vinegar and olive oil. Season salad with salt and pepper and toss.
Chop the lobster meat into bite-size pieces, reserving the best-looking ones for the top. 
To serve
Mix the lobster meat with the remaining prepared ingredients, placing the 'hero' lobster pieces where the eye will catch them. Garnish with the fennel fronds.
Handy Tips
Handy Tip
01
The lobster can be prepared in the morning or a few hours before and kept in the fridge. Don't cut them until you need them.
Handy Tip
02
The salad can also be made beforehand; just make sure it's covered well and kept chilled.
Back to Recipes