Pollo asado with charred salsa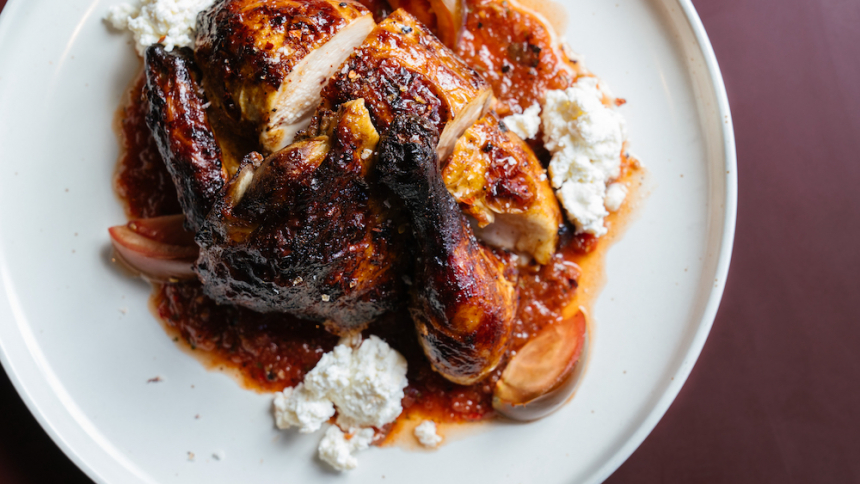 Method
(This recipe was provided by UMA sous chef Patrick Savann at Pan Pacific Perth.)
To make the chicken, start the day before you want to cook it.
Blend pepper and spices. Combine sugar, salt, aji and liquids. Add the spice mix to liquids. 
Cover the chicken in the marinade and allow to marinate overnight, or up to 48 hours before cooking. 
When ready to cook, preheat the oven to 180C. Put the chicken on a tray and roast for 40-50 minutes, reserving the marinade for later. 
Remove and rest the chicken for 10 minutes. Increase the oven temperature to 200C. 
Baste the chicken with the marinade and return to the oven for eight minutes. 
To make the charred salsa, char tomatoes, onions, garlic and red chilli whole on the grill, turning occasionally until dark. The onion and tomato should be well blackened, while the chilli and garlic should be blistered. 
Toast the dried aji panca, soak in 100ml hot water and allow them to soften. 
Peel off the onion skins and discard, adding the softened onion to a blender with the other ingredients. 
Blend everything in pulses until an even consistency. Season with salt to taste. 
To serve
Arrange the chicken on a platter, sprinkle over ricotta cheese and serve with the charred salsa.
Handy Tips
Handy Tip
01
The aji chilli pastes can be found at The Spice Wagon in Morley.
Back to Recipes