Pulled pork with BBQ sauce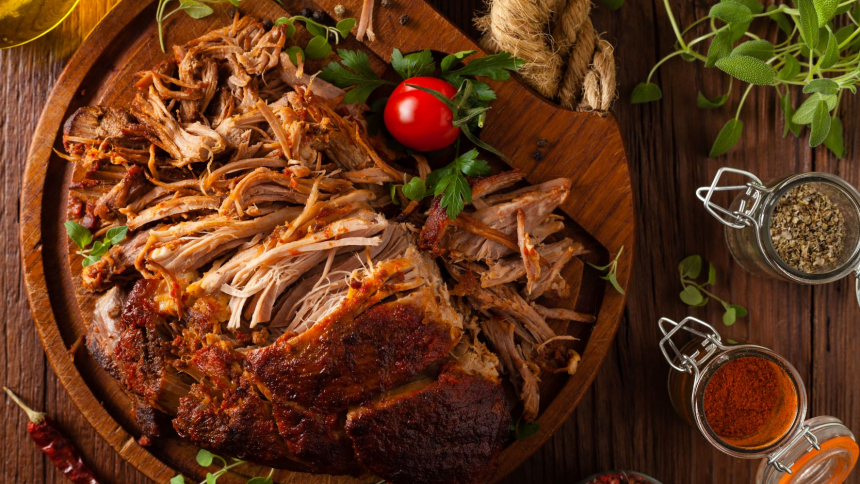 Method
Preheat oven to 150C. Place the pork on a chopping board or plate to prepare.
Combine brown sugar, salt, paprika, garlic and onion powders, cumin and black pepper in a bowl. Rub all over the pork.
In a large Dutch oven, heat canola oil over medium-high heat. Add pork and sear on all sides, turning frequently with tongs, until the entire cut is seared (about 5 minutes).
Pour the beer around the pork and cover with lid. Transfer to oven and cook for about 3 hours.
Remove the lid and cook for another hour, or until the pork is very tender and pulls apart easily with a fork. Remove pork from Dutch oven and rest on a clean wooden board.
To make the sauce, leave 1 cup of the pork cooking liquid in the Dutch oven and place it over medium-high heat. Whisk in tomato sauce, vinegar, mustard, brown sugar and Worcestershire sauce (and Sriracha, for added spice). Bring to boil, then reduce heat and simmer about 5 minutes, or until sauce starts to thicken.
To assemble, use a large knife, cut the pork into thick slices. Use two forks to pull the meat in opposite directions to shred pork into long strips. Place the pork in a bowl and toss with enough barbecue sauce to coat.
To serve
Add to brioche buns to make sliders or add to a wrap with salad.
Handy Tips
Handy Tip
01
Top corn chips with pulled pork, chopped tomatoes and cheese to make nachos.
Handy Tip
02
The pulled pork can also be frozen to use at a later date.
Back to Recipes