Roasted red capsicum & goat's cheese bruschetta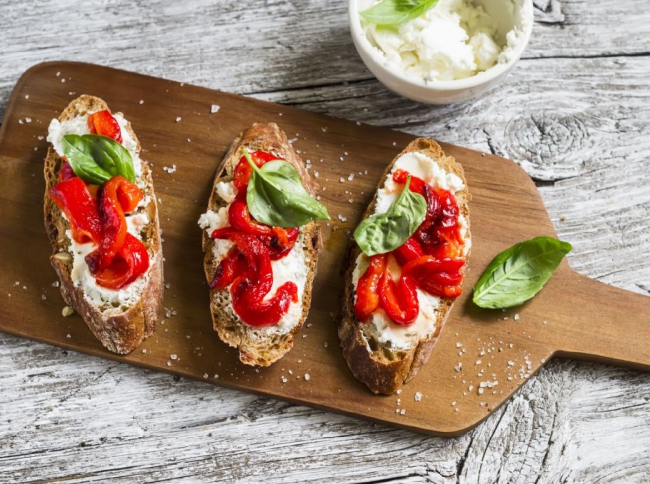 Method
Preheat oven to 220C. Line a baking tray with foil. 
Place whole capsicums on tray and roast, turning regularly, for 30-40 minutes or until the skin is charred. 
Remove from oven and using tongs, seal capsicums in a ziplock plastic bag for 15 minutes. 
Once capsicums have rested, rub the charred skin off with a paper towel and remove stem and seeds. 
Using your hands, pull the flesh into strips and add to a clean bowl. Mix with olive oil, red wine vinegar and the garlic clove, then season with salt and pepper. Rest for an hour to develop flavours. 
Slice crusty bread and toast. While hot, arrange on a platter and spread generously with goat's cheese. 
Spoon roasted capsicum over the cheese and serve immediately. 
To serve
Garnish with fresh basil leaves.
Handy Tips
Handy Tip
01
If you have a gas cooktop, you can also char your capsicum by turning on a medium flame and resting the capsicum on the grate above. Turn capsicum regularly with tongs. It's a good idea to line the stovetop around the heating element with foil to make cleanup easier.
Back to Recipes