Smoked green bananas & onion fritters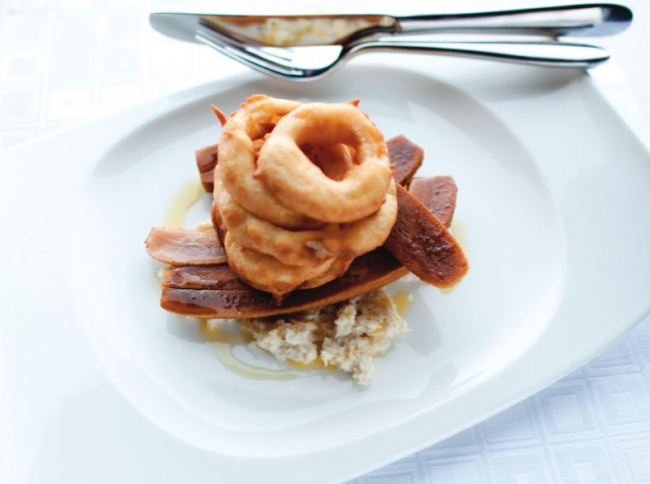 Method
To set up the smoking station, place the heat beads on a wire tray over a naked flame to heat (outside and on the barbie is best). They need to be white hot.
Line the base of a multi-layered Chinese steamer loosely with foil and add the tea. Keep it nearby.  Put the sugar in a bowl and keep it nearby.
On the first and second tier, place the cut bananas lengthways. Cover with the steamer lid. When the heat beads are ready you need to move really fast, so you don't lose the smoke.
Pour the heat beads on the tea in the base of the steamer, sprinkle the sugar over and immediately place the tiers or banana on top, working fast. Hold the lid down firmly.
Store away from any heat and keep covered for 10 minutes. Remove from the steamer, cool and set aside to serve.
To make the batter, whisk the flour and water together. Coat the onion rings in plain flour and place into the batter, then shallow fry until golden brown. Drain on absorbent paper and season.
To serve
To assemble this dish, smear a little horseradish on the base of your plate, place the smoked banana on top and stack with the hot and crunchy fritters.
Drizzle with some good extra virgin olive oil and serve immediately.