Spatchcock garlic lemon chicken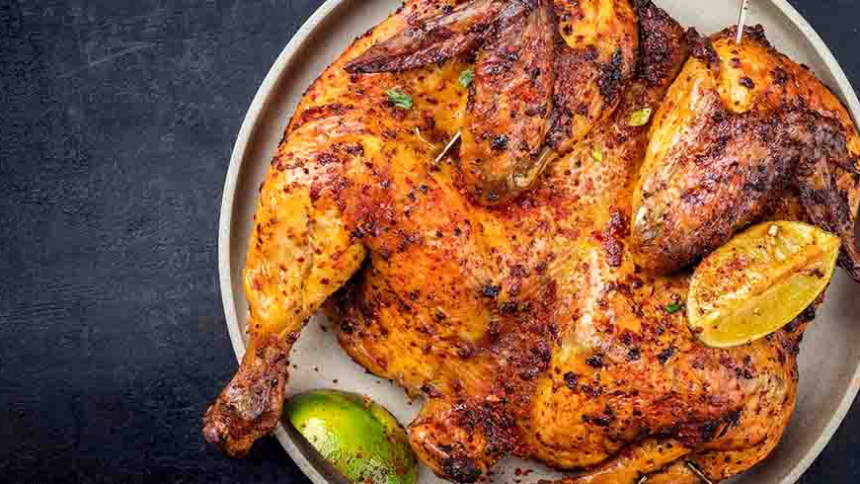 Method
To prepare the chicken, remove it from its packaging, pat the skin dry with paper towels and place it breast-side down on a cutting board.
Using good quality kitchen scissors or poultry shears, cut along each side of the backbone from the tail to the neck to remove the backbone (retain backbone for stock if desired).
Turn the chicken breast side up and turn the drumsticks outward. Using the palms of both hands, press firmly in the centre of the breast until the breastbone breaks and the chicken flattens.
Combine olive oil, garlic, rosemary, lemon juice, salt and pepper in a small bowl. Pour the marinade over the chicken and rest for at least 30 minutes.
Heat a large heavy based pan over medium-high heat. Add the olive oil, and then place the chicken in the pan skin side down and cover with foil.
Place another heavy pot on top of the chicken and press it down firmly. Reduce the heat to medium and cook with the pan on top 15 minutes. Once browned, remove the pot from on top of the chicken and turn it skin-side up.
Cook the chicken until the skin is crisp and browned, about 15 minutes, then carefully remove the heavy pot and foil, and turn the chicken skin side up. Replace the foil and pot, and cook for a further 15 to 20 minutes, until the juices run clear.
Rest the meat for 10 minutes before serving.
To serve
Place on a platter and scatter with lemon wedges to serve.