Spiced couscous with haloumi & figs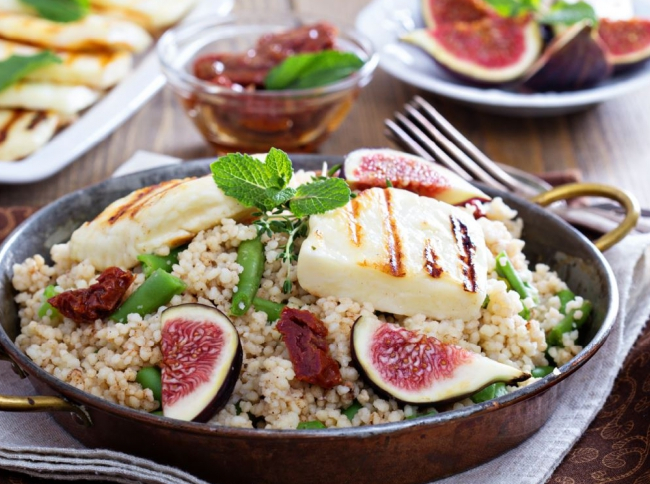 Method
Steam the sliced beans over a double steamer for 3 minutes. Remove from heat and plunge into cold water. Drain and set aside. 
Heat stock until simmering in a small saucepan, then remove from heat. 
Mix couscous and ras el hanout, then add to the saucepan of hot stock. 
Rest with lid on, without stirring, for 5 minutes. 
Remove the lid and fluff up the couscous with a fork. Stir butter through and set aside. 
Remove haloumi from packaging and pat dry with a paper towel. Slice into thick slices. 
Heat a non-stick frypan or griddle pan over medium heat and coat with olive oil spray. 
Fry the cheese for about 2 minutes per side, or until golden. 
To serve
Transfer the spiced couscous from the saucepan to a serving platter. Scatter with fried haloumi, green beans, semi-dried tomatoes and figs. Garnish with fresh herbs.  
Handy Tips
Handy Tip
01
Ras el hanout is a medley of between 20 to 50 different spices used in North African cooking. It can be found at most grocery stores in the spice section.
Back to Recipes