Roasted red vegie vegan quiche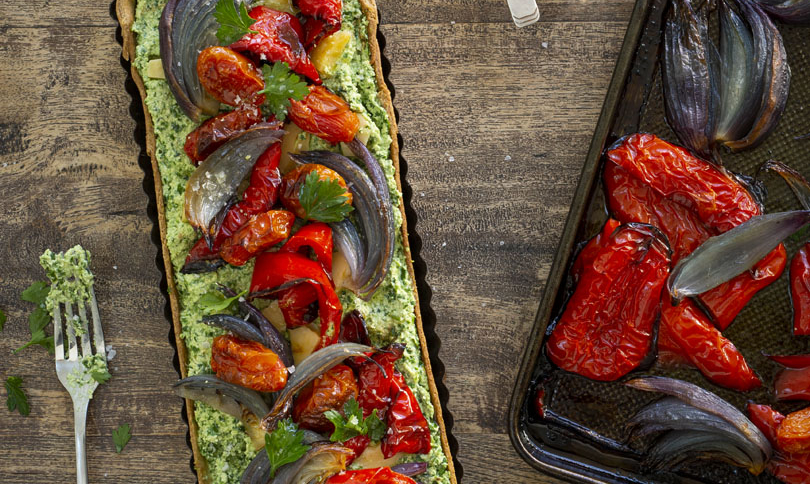 Method
(This recipe was created by Kate Flower, of Kate Flower Food.   This shows it's possible to make a gorgeous egg-free vegan quiche. It also makes an eye-catching addition to the table, with the vibrant green filling contrasting with the rich, red roasted vegetables. Local producer Empire Pastry has recently released a wholemeal olive oil pastry which is perfect for the base.)
Pre-heat oven to 200C.
Place the red onion, red capsicum and cherry tomatoes in a large baking dish. Coat well with oil and season with salt and pepper. Roast for 20-25 minutes until onion is soft and vegies are slightly charred.
Adjust oven temperature to 180C.
Prepare a rectangular tart tin 32cm x 10cm by greasing and lining base with baking paper.
Roll pastry to size of tart tin, carefully place pastry in tin and trim to size. Chill for 10 minutes or up to two days (covered).
Using baking weights, bake blind at 180C for 12 minutes. Remove weights and return to oven for another 5 minutes until base is crisp.
To prepare filling, place all ingredients except spring onions, cheese and balsamic in a food processor and whiz until smooth. Stir through cheese and spring onions.
To serve
Fill pastry shell with filling, and arrange roast vegetables on top. Serve with a drizzle of balsamic.
Handy Tips
Handy Tip
01
Roast vegies can be prepared two days in advance and kept in the fridge. The filling can be prepared a day in advance and kept in the fridge. Bring both to room temperature before serving.
Handy Tip
02
Pastry is best baked when chilled. Once prepared, place pastry-lined tart shell in the fridge for a few minutes before baking.
Handy Tip
03
This quiche reheats very well after a few days in the fridge.
Back to Recipes