Yabby pasta with goat's curd cream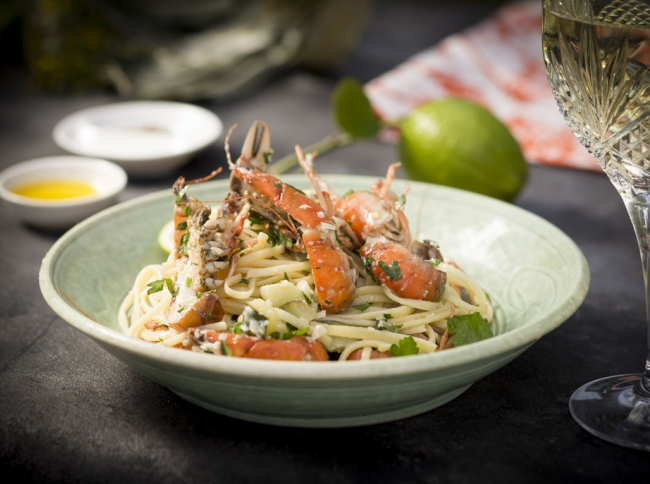 Method
(Recipe by chef Caroline Taylor with Justin Langer, WA's Celebrity Signature Dish – Swan Valley) 
Fill a large stock pot with water, add a pinch of salt and bring to the boil. 
Dice onions, garlic and zucchini and set aside. 
In a large deep frypan, cook off the vegetables in half the oil and butter until translucent, then add the white wine and cook down until reduced to half of the original liquid. 
Add goat's curd and mix until smooth, adding a bit of milk if required, season and set aside 
In the boiling water, blanch half the yabbies for 40-50 seconds, peel, and set the tail meat aside. Keep the claws as there is beautiful meat in there, too. 
With remaining yabbies, take out one at a time by the back of the neck (keeping clear of the pincers) and with a very sharp knife come down in the middle of the head. This is done very quickly to alleviate any unnecessary distress.
Take the knife down the middle of the back, splitting the yabby in half. 
Bring a large frypan to medium-high heat with the leftover butter and oil.
Fry the half shell yabbies for 30 to 40 seconds and set aside. 
Using the same water the yabbies were blanched in, follow packet instructions to cook the pasta.  Drain and set aside. 
Add the peeled yabby tails to the sauce and gently bring back to the heat. 
To serve
Add drained hot pasta to the yabbies and gently toss. Add the fresh herbs, diced onions, garlic and zucchini, a squeeze of lemon, and check the seasoning. You can also add some preserved lemon, if you like.
Handy Tips
Handy Tip
01
Keep the yabbies in the freezer or on ice until it's time to use them as they will go into dormant sleep mode and will be easier to handle.
Back to Recipes