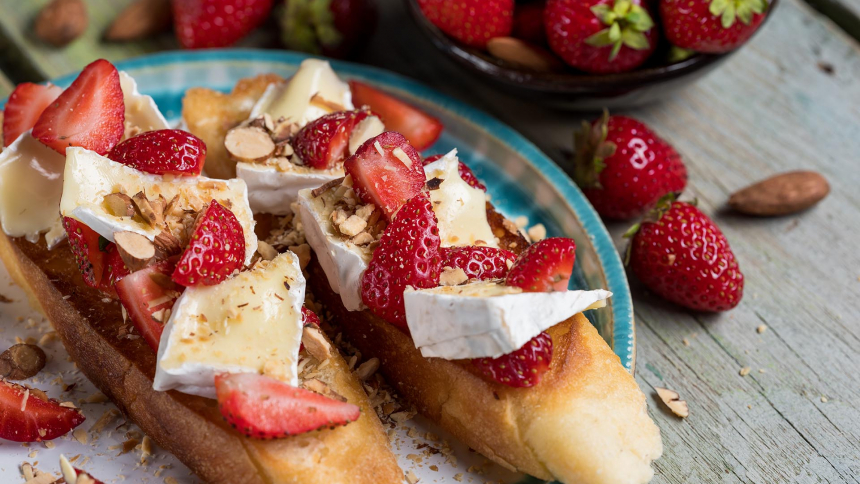 'Tis the season for entertaining, and finger foods are not only easy to manage, they are surprisingly versatile. Check out these three quick ideas featuring in-season produce.
MINI CAPRESE SKEWERS
Using mini wooden skewers, thread multi-colour gourmet cherry tomatoes alternately with a basil leaf folded in half, and a Borrello Cheese or La Delizia Latticini bocconcini. Continue until skewer is full. Drizzle with WA EVOO and balsamic glaze.
OCCY BLINI
Combine 1 cup plain flour, ¾ tsp salt and ½ tsp baking powder in a bowl. Whisk together ¾ cup milk, 1 egg and 1 tbsp melted butter and mix into flour mixture to make a smooth batter. Heat butter in a frying pan and drop tablespoons of batter into the pan, well spaced. Cook until bubbles form on surface and flip to cook on the reverse for 1 more minute. Remove onto a paper towel to cool. Spread blini with Bookara Goat Dairy curd and top with a selection of bite-sized marinated Fremantle Octopus and a very finely sliced piece of lemon. Finish with scattered thyme leaves.
STRAWBERRY BRIE CROSTINI
Heat oven to 200C. Slice a Loafers Artisan baguette into 1cm slices and arrange on a baking tray and brush with olive oil. Season with salt and pepper and bake for 5 minutes until slightly toasted. Remove from oven and top each crostini with a slice of Margaret River Dairy brie and finely sliced strawberries. Season with black pepper and drizzle with balsamic vinegar.