Chocolate potato cake (for a crowd)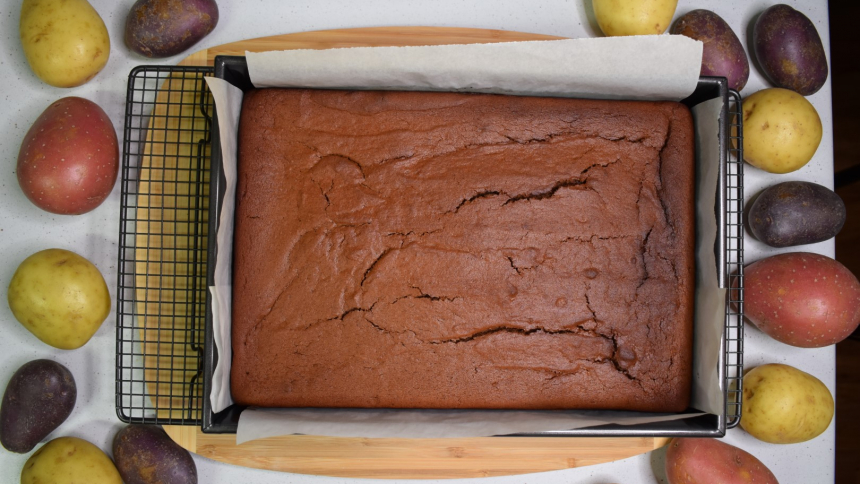 Method
(This recipe was kindly provided by WA Potatoes. It will serve 12 to 16 people)
Preheat the oven to 190C. Line a large rectangle cake tin 23cm x 30cm with baking paper.
Sift flour, baking powder, cocoa and salt into a large bowl. Whisk to combine and set aside. Place chocolate in a heatproof bowl and microwave for 30 second bursts on high, stirring in between, until melted.
Beat the butter and sugar in an electric mixer until thick and pale. Add melted chocolate and mashed potato and beat until smooth. Add the eggs, one at a time with a little of the flour each time, beating well after each addition. Fold in the remaining flour and milk until well combined.
Place the batter in the lined cake tin and cook for 30 minutes or until a skewer inserted in the centre comes out clean. The cake will be a little fudgy. Cool in the pan for 10 minutes before turning out onto a wire rack to cool completely.
To make the buttercream, beat butter in a bowl using an electric mixer until it turns pale. Gradually add the icing sugar mixture and milk, beating constantly until combined. Add a few drops of vanilla essence if desired and stir once more.
To serve
Ice with the buttercream and dust the topping with cocoa powder.
Handy Tips
Handy Tip
01
If you would like an even more generous cake for a celebration, double this recipe and sandwich the two cakes with buttercream and berries before finishing the outside with extra buttercream.
Back to Recipes