Goat's cheese & red onion tart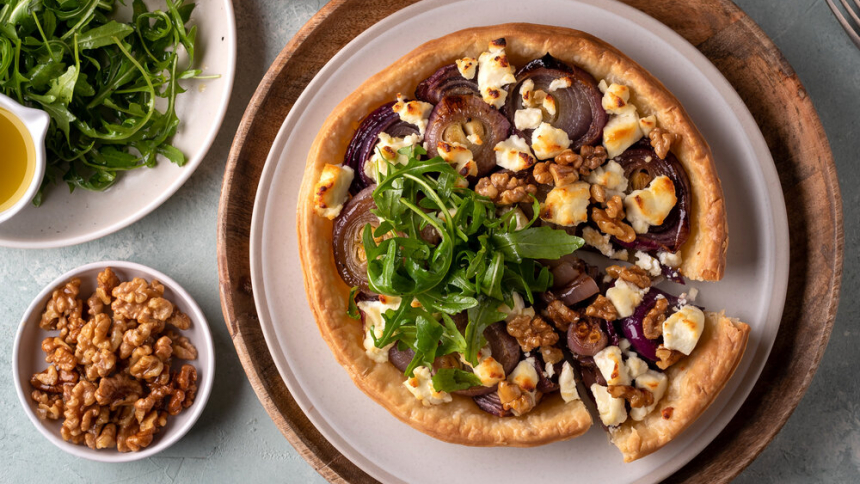 Method
(This recipe was created by Harriet Harcourt and kindly supplied by Empire Pastry)
To blind bake tart, preheat oven to 190°C.
Line tart shell with baking paper and fill with baking beans (see handy tip).  Scrunch the baking paper up and then "un-scrunch" it before lining the pastry shells – it makes it softer and less likely to cut into the pastry.
Bake tart shell for 10-12 minutes. Carefully remove paper and beans and bake for another 3-5 minutes until the pastry is cooked through (no damp bits on the bottom).
To prepare filling, reduce oven to 180C.
Spread the red onion slices on a tray lined with baking paper, drizzle with olive oil and a splash of balsamic vinegar and bake for about 30-40 minutes, or until onion is starting to soften and colour.
Place the cooked red onion slices in the pastry case, break the goat's cheese into pieces and scatter over the onions. Bake tart until goat's cheese begins to turn brown, about 20-25 minutes.
Meanwhile, combine the walnuts, honey, butter and a pinch of salt and place on a tray lined with baking paper and bake for 20-25 minutes until nicely toasted. Tip onto a tray or plate to cool.
To serve
Drizzle cooked tart with olive oil, then toss the rocket in vinaigrette and pile on top. Scatter over honey-glazed walnuts and serve.
Handy Tips
Handy Tip
01
You can use raw chickpeas, rice, kidney beans, or any other dried grain or legumes to blind bake. Store the cooled beans in an airtight container; they are no longer suitable for consumption but can be reused multiple times for baking blind.
Back to Recipes