Lamb burger Xian style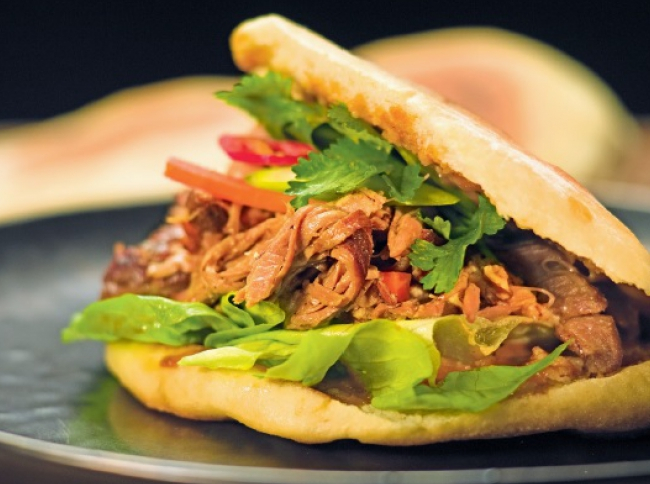 Method
(Recipe supplied by Amelia Park Lamb)
Place lamb in a large pot of cold water and bring to the boil. When boiling, remove from heat and skim off any scum. Strain, discarding the liquid.
Return lamb to the pot with all other ingredients. Cover with cold water and bring to the boil. When boiling, cover with a lid, reduce heat and simmer gently for two hours or until lamb is tender.
Allow to cool in the cooking liquid. Meanwhile, make the bread.
To make the buns, while the lamb is cooking, place all ingredients for the buns in a bowl and mix to form a firm dough.
Turn dough out onto a lightly floured work surface and knead for 10 minutes or until smooth and elastic. (Alternatively, place dough in an electric mixer fitted with a dough hook and mix until a smooth ball forms.)
Return dough to the bowl and cover with cling wrap. Set aside in a warm place for 45–60 minutes or until doubled in size. When risen, divide dough into eight even pieces and shape each piece into a ball.
Use a rolling pin to roll each piece into a thin sausage shape about 20cm x 3cm. Working from the shortest edge, tightly roll up each strip into a pinwheel.
Stand each pinwheel upright so the rolled edges face up and down, then roll out to make a flat disc about 10cm round.
Heat frypan over medium heat. Brush each bun with a little oil and place in pan one at a time until crispy each side or until cooked through and lightly golden. Leave to cool.
To prepare meat, once cool, drain lamb, reserving the liquid. Place lamb in a bowl, then use two forks to shred the meat. Moisten with a little cooking liquid.
To assemble burgers, cut buns almost in half to form a pocket. Divide warm lamb among base of each bun. Drizzle with a little sesame sauce, and add lettuce, coriander, and spring onion. Drizzle with chilli oil, if desired. Close buns and serve immediately.
To serve
Enjoy with a glass of young fruity Malbec.
Handy Tips
Handy Tip
01
If you don't want to go to the trouble of making your own bread (although it is worth it), you can use store-bought pita bread.
Handy Tip
02
Shaoxing wine, chilli bean paste and cassia bark are available from Asian food shops.
Back to Recipes