Dan Dan Noodles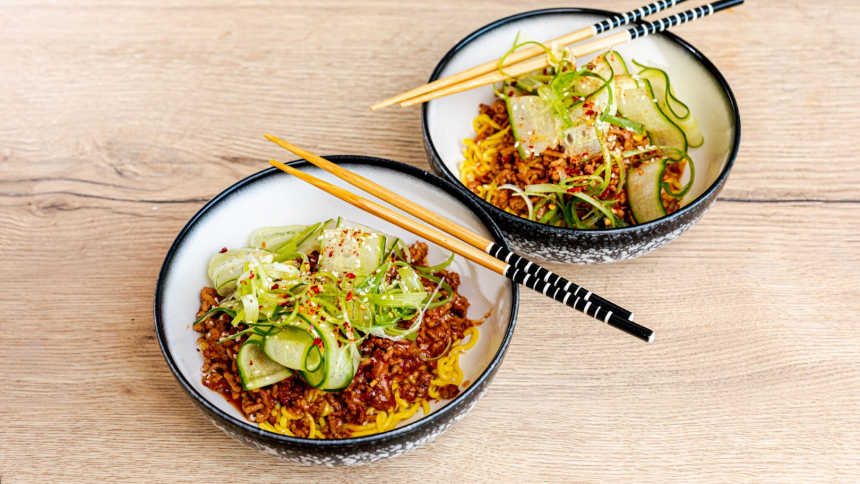 Method
(This recipe,  a classic Sichuan dish loved the world over, is kindly provided by Linley Valley Pork.)
Slice spring onions into thin, 5cm strips. Use a vegetable peeler to cut long cucumber ribbons. Add both to a bowl of cold water and leave in the fridge until you're ready to serve.
Heat the oil in a wok or large frying pan over medium heat. Add the chilli flakes, pepper and star anise. Stir-fry for 1 minute, until aromatic. Add the garlic and ginger. Stir-fry for another 30 seconds.
Add the pork mince and stir-fry, breaking up any lumps with a wooden spoon, for three to five minutes or until just cooked through. Add the stock, soy sauce, peanut butter and vinegar to the pan and simmer for two to three minutes until slightly reduced. Remove from heat and stir in the sesame oil. Use tongs to remove and discard the star anise.
Meanwhile, cook the noodles in a saucepan of boiling water following packet instructions. Drain and divide among serving bowls. Drain the cucumber and shallots and pat dry with a paper towel.
To serve
Ladle the pork and plenty of soupy sauce over the noodles. Top with cucumber and spring onions, plus extra chilli flakes if desired.
Handy Tips
Handy Tip
01
You can substitute the Sichuan peppercorns with ½ tsp ground black peppercorns, if desired.
Handy Tip
02
This dish offers great bang for your buck on the 'flavour vs effort' scale and is just as delicious without the chilli for a new family favourite.
Back to Recipes