Lavish bircher muesli with sweet native dukkah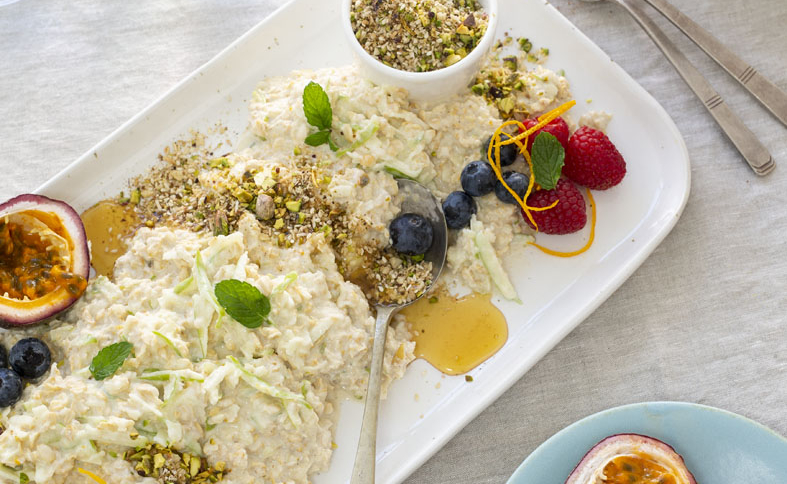 Method
(This recipe was created by Kate Flower, of Kate Flower Food. Make your bircher muesli extra special when entertaining and top with lavish dressings, such as this homemade sweet dukkah. Kate used Dirty Clean Food's Single Origin Rolled Oats and the divinely creamy Bannister Downs Dairy milk. DCF oats are regeneratively farmed and minimally processed in the Wheatbelt and you can really taste the flavour difference.)
To make the sweet dukkah, preheat oven to 150C.
Roast macadamias and pistachios on an oven tray for 8 to 10 minutes. Roast sesame seeds, coconut and lemon zest on a separate tray for 5 to 6 minutes. Remove from oven and allow to cool.
Combine nuts, seeds, half the roasted coconut and half the roasted zest in a mortar and pestle and crush to desired texture. Stir through spices, lemon myrtle, salt and sugar. Store in an airtight jar until required.
Set aside remaining coconut and zest to finish bircher muesli.
To make the bircher muesli, combine oats, milk, cinnamon and vanilla in a medium bowl. Stir well. Cover and refrigerate overnight.
The next morning, add yoghurt, grated apple, honey, orange zest and juice to taste. Mix well.
To serve
Spoon muesli into a large shallow serving bowl.
Top with fruit, coconut and pistachios. Drizzle over additional honey and honeycomb. Scatter sweet dukkah. Serve with a side bowl of additional sweet dukkah.
Handy Tips
Handy Tip
01
The bircher muesli can be made ahead and stored, covered, in the fridge for up to four days. The mixture will become thicker, so add a little extra milk to serve.
Handy Tip
02
The native dukkah can also be made up to two weeks ahead, and kept in an airtight container in the fridge.
Handy Tip
03
Apple juice can be used instead of milk for a lighter muesli. Adjust the sweetness by reducing the amount of honey added.
Handy Tip
04
The taste of lemon myrtle will develop over time, moving from lemon to an enhanced eucalyptus flavour. Adjust quantities to suit your palate.
Handy Tip
05
Make this dish a year-round favourite by replacing summer berries with warm roasted or stewed apple or pears.
Back to Recipes