Orange & rosemary roast chicken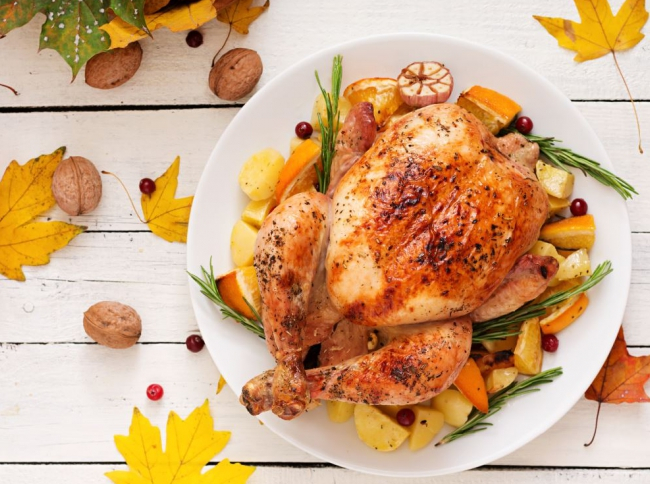 Method
Preheat oven to 190C. 
Pat the chicken dry inside and out. Rub the cavity with 2 tsp of the salt and all the pepper, then stuff it with the rosemary sprigs, all the orange quarters, three lemon quarters and garlic cloves.
Squeeze the remaining lemon quarter over the skin and sprinkle with the remaining salt. 
Place the chicken, breast side up, into a roasting pan. Arrange the potatoes around the chicken and toss any orange and lemon quarters, garlic, and herb sprigs that would not fit inside the cavity on top. 
Roast the chicken for 1 hour and 45 minutes, or until the juices run clear.  Transfer the chicken to a board to rest covered in foil for about 15 minutes. 
Increase the oven temperature to 220C and brown the potatoes for a further 10 minutes. Remove pan from oven and transfer potatoes to a warmed serving dish. 
Pour 1 cup of the stock into the roasting pan and scrape up any browned bits from the bottom. Strain the liquid through a sieve into a saucepan and place on low heat. 
Add the butter and remaining stock to the saucepan. When the butter has melted, sprinkle the liquid with 1 tablespoon of flour and whisk until it dissolves. 
Cook for 5 minutes until sauce thickens, then carefully remove cooked citrus from the chicken cavity and squeeze the juice into the saucepan. Cook until the gravy has thickened again and is glossy. Season to taste. 
To serve
Serve the roast chicken and potatoes with steamed broccolini and the gravy on the side.