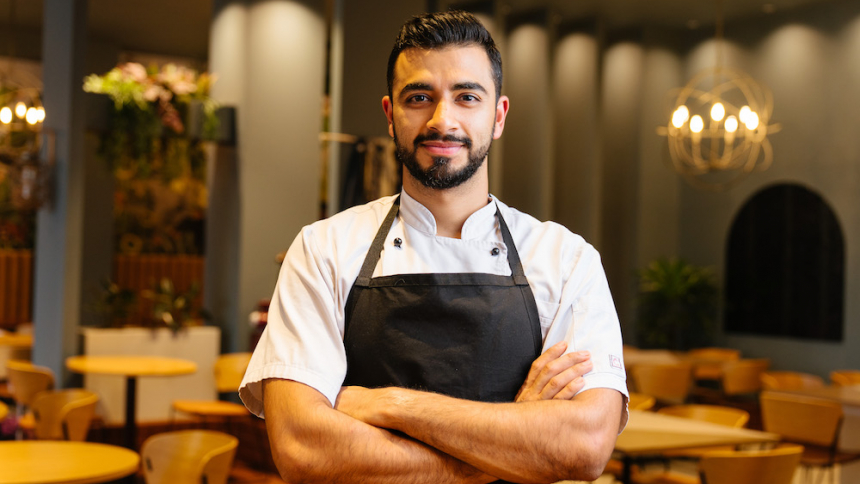 A journey through Peru is made even more special with the finest local produce. Pan Pacific Perth executive chef Xerxes Bodhanwala shares the philosophy behind the menus.
There's a fridge tucked away at the back of UMA that attests to the philosophy behind Pan Pacific Perth's celebrated Peruvian restaurant.
The cuts of meat on display for all to see are indicative of the relationship that executive chef Xerxes Bodhandwala has forged with local suppliers – and the pleasures he is thus able to dish up for diners.
In this case, grass-fed beef from a 10-year-old Normande cow retired from dairy duties at Halls Family Dairy a year ago. The family-owned farm in Wokalup, which has Western Australia's only purebred herd of Normande, has built a stellar reputation for its signature artisan cheese.
"We have their Suzette cheese on our menu, which is amazing and the only cheese we serve, and their beef is going to be a highlight for December – if it lasts that long!" Xerxes says. "Like all the food at UMA, they are perfect for sharing, too."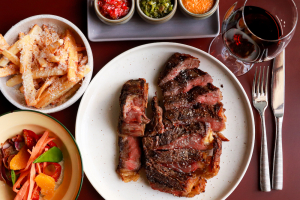 Seasoned with salt and UMA's own pepper mix, the tomahawk, t-bone and ribeye cuts will be served with an array of salsas, that run the gamut of mouthwatering flavours, from fresh and citrusy to hot and spicy.
The Halls Family Dairy special is reflective of UMA's paddock-to-plate ethos, underpinned by quality suppliers. This also involves being mindful of the pressures on those suppliers and working around issues such as drought or transport difficulties.
"If they call up and say 'look, we can't get you this, but we can substitute these options', I can adapt and take the menus in different directions," Xerxes says.
The Indian-born chef came to Perth almost four years ago to help set up UMA at the behest of friend and former Pan Pacific Perth executive chef Alejandro Saravia, who he had worked with at Alejandro's first Peruvian restaurant in Sydney in 2009.
Now executive chef himself, Xerxes oversees a team of about 35 kitchen staff, who can dish up delights to satisfy more than 1000 people in style across Pan Pacific Perth's diverse food and beverage offering.
While menus vary as you'd expect with venues such as the popular Hill Street Sports Bar, the glamorous cocktail bar The Stage, the Lobby Café, Monty's breakfast hang and, of course, UMA, the quality of produce is a feature throughout.
"We try our best to get everything locally, it's a philosophy I've always had," Xerxes says. "All our fresh food, vegetables, fish, meat, they are all local – and even our dry produce we try to get locally."
Unfortunately, Xerxes is unable to source aji, the dazzling array of Peruvian chillies integral to so many of UMA's dishes, so they have to import the pastes.
"It's not just about heat. Each one of the chillies has a flavour profile which goes with certain dishes," he says. "There are some that are fairly hot but the majority are really well balanced; it really is about a balance of flavour."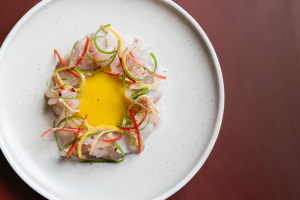 The UMA menu changes every three months, though a few new dishes might be introduced according to available produce, such as the Halls Family Dairy special. Other dishes are so popular they can't be taken off the menu – the 'pulpo a la Piedra', featuring grilled Fremantle Octopus which has been slow cooked and then grilled, is one the regulars can't get enough of.
So, for the uninitiated, what is special about Peruvian cuisine?
"I think one of the things is that it is very much based on freshness – the classic example is ceviche; to be able to eat a dish that is primarily raw seafood, is all about freshness and flavour," Xerxes says.
"Secondly, it's not a mellow cuisine; it's got a punch and I really like that. And, finally for me, it's the combination of the different cultures influencing the cuisine, with immigrants from Japan, from China, from Africa – it has kind of all melded together to form the food we create now. It's exciting."
(You can give it a try at home with this fabulous recipe from UMA.)
Whatever menu he is planning, Xerxes is passionate about ensuring food is produced sustainably, avoiding as much wastage as possible.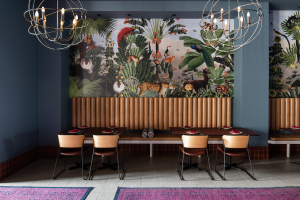 "We buy everything whole, even the vegetables. A lot of other hotels to save labour would buy diced or shredded or broken down, but we buy whole cuts of meat and use them throughout," he says.
"For example, we buy whole chickens, split them in half and the backbones that others might consider wastage we put into the stock. We buy whole fish, and the bones go into stock, or the banquet chef might use them in the fish curry to develop flavour.
"With the Halls Dairy cow we took everything, and we'll use it all in different areas, like the secondary cuts in the empanadas in UMA, as they develop so much flavour with slow cooking."
Integral to a sustainable way of cooking is ensuring the teams communicate to make the best use of everything coming into the kitchens each week.
This attitude towards waste extends to the front of house, where Xerxes says wait staff happily guide guests on the number of dishes to order. "They can always order more, and they never have to wait long, but we know our guests don't like to waste food, either."
With Christmas around the corner, Xerxes has been busy planning festive menus. Though UMA will feature a special five-course menu on Christmas Eve – 'La Noche Buena' is when most Peruvians celebrate Christmas – it's not a traditional affair.
"Peruvians might have a turkey but there's no Christmas ham, or the kind of things we might be used to eating at Christmas. So I look at their spices and what we do over here and kind of play off both," he says.
"It's a special menu that will start with the ceviches and snacks and then, instead of turkey, we're doing duck with a chilli glaze and serving with a chaufa rice, which comes from the Chinese influence."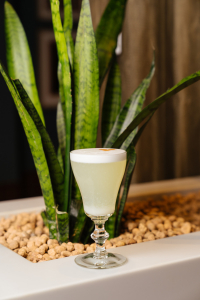 And what better way to toast your loved ones than with a few tangy Pisco Sours? The Chileans might argue about who can lay claim to the popular cocktail, or indeed the pisco (grape-distilled spirit) itself, but it's the perfect way to kick off your journey through Peru.
While Xerxes says he finds Peruvian desserts the most challenging, because they lean towards the rich side, no one with a sweet tooth could resist the Alfajor Peruano, a divine cornflour shortbread filled with Peruvian caramel. He's kindly shared the recipe, so you can make it at home.
Feliz navidad, everyone!