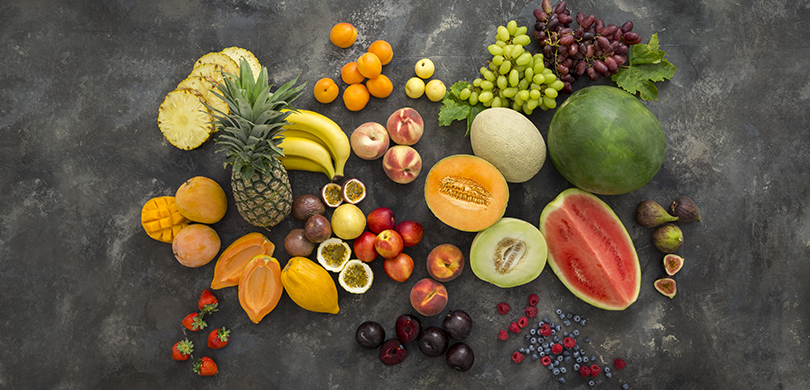 With the weather warming up, it's time to take a fresh look at the menu. Put a spring in your step with these fabulous ingredients.
There's something so refreshing about spring. The days are longer, with the sun casting warmer rays. Even the nights aren't as chilly. Wildflowers are blooming, people are out and about, and everyone just seems to be in a better mood. Or maybe it's just us?
Keep the good times rolling by inviting some friends over for a few drinks and a bite to eat. Keep the occasion stress-free by choosing the best fresh produce and treating it with respect.
Here are six super West Australian fruit and vegetables that deserve a starring role on your menu, whether you're entertaining a crowd or feeding the family.
Asparagus has such a short season, but oh, what a wonderful one. Those of us who grew up on the tinned variety have an even greater appreciation for those magical fresh stalks, whether green, purple or white. High in vitamin B6, calcium and a very good source of dietary fibre, asparagus also doesn't require much to make it sing. In fact, the less interference, the better. Simply sear them on the barbecue for a few minutes with olive oil and garlic for a delicious side. Or steam til just tender and pair with quality goat's cheese or parmesan, add a bit of crunch (pine nuts or chopped almonds work well) and drizzle with a little olive oil and lemon. We love them seared with WA scallops, too. They are also delicious roasted.
Cauliflower hasn't always had the best reputation. Like its close relative broccoli, it's been overcooked and boiled out of goodness. Treated right, however, cauliflower can either be the basis of an entire meal or a delicious side. A favourite winter staple, cauliflower cheese, isn't going anywhere any time soon – it will still elevate a spring barbie or roast – but cauliflower is also a winner in salads, especially if you add a bit of spice. For a simple side, sprinkle some turmeric, cumin and curry powder over chopped florets and pan fry til tender or roast in the oven. Add roasted cashews for added crunch and stir through rice or quinoa. Korean fried cauliflower is also popping up on restaurant menus for good reason. Serve it instead of fried potatoes for a change, and watch your guests swoon.
Oranges are so much more versatile than the way we traditionally consume them. Not that we're dissing the tangy quarters stuffed into lunchboxes or handed around for a quick refresh at half-time netball. But we tend not to think as much about how to cook with them. Whether you're thinking sweet or savoury, oranges really do add an extra zing to a dish. While many varieties are at their best in winter, the navel is still in abundance in spring, with the valencia coming into its own as the weather heats up. Try this super-easy fennel and orange salad (it only takes five minutes) or lift the humble roast a notch with a zesty citrus marinated roasted chicken. Keep an eye out for fruit from Moora Citrus.
Rockmelon is one of the simplest ways to put a smile on the dial of your guests. Serve as a starter with goat's cheese wrapped in slices of prosciutto (old-fashioned never goes out of style) or save it for dessert, served with homemade ice-cream or fresh cream. Rockmelons are packed with potassium and vitamins B and C, so encouraging the kids to help prepare them is a good way to encourage them to eat tuck into more of this delightful fruit. As the days heat up, think smoothies or sorbets. Rockmelon also pairs beautifully with other fruit, as Russell Blaikie shows with the vibrant Carnarvon fruit mess. Invest in a melon baller to up the presentation stakes.
Strawberries don't need any adornments. In season, they truly are the best eaten as nature intended, although we have been known to dip them in dark local chocolate and splash them with a little Cointreau (don't judge until you've tried it). But they also amplify savoury dishes and are just divine in desserts. Roll into the weekend with these decadent ricotta strawberry pancakes or elevate a chicken salad with beautiful berries. They work wonderfully in muffins (throw in some white chocolate, too) and either in cakes and tarts, or on top as decoration. And if you find yourself with more than you can handle, why not try making some homemade jam? Package them in pretty pots for Christmas presents (you can thank us later). Of course, strawberries are even better if you head out to pick them yourself. Keep an eye out for Berry Sweet gems.
Zucchini, also known as courgette, is not unlike cauliflower in that it really doesn't get enough credit. Although most of us think of zucchini as a vegetable (and we've classified it as one for our seasonal guide), it is botanically a fruit. Packed with vitamins, minerals and antioxidants, it also has a high fibre  and low-calorie content, so enjoy it in abundance. One of our favourite ways to eat it is grilled or barbecued with a little olive oil, but it's also wonderful in oven bakes, frittatas and savoury muffins, as well as salads and on top of pizza. If you have a vegetable spiraliser, zucchini can quickly be turned into a rather delicious 'pasta' – just serve with your favourite sauce. For starters, try these super-easy feta, zucchini and cherry tomato skewers.
***
For the full list of seasonal fruit and vegetables, see our seasonal guide. Follow us on socials for great recipes, produce tips and so much more.