Banana & beetroot ravioli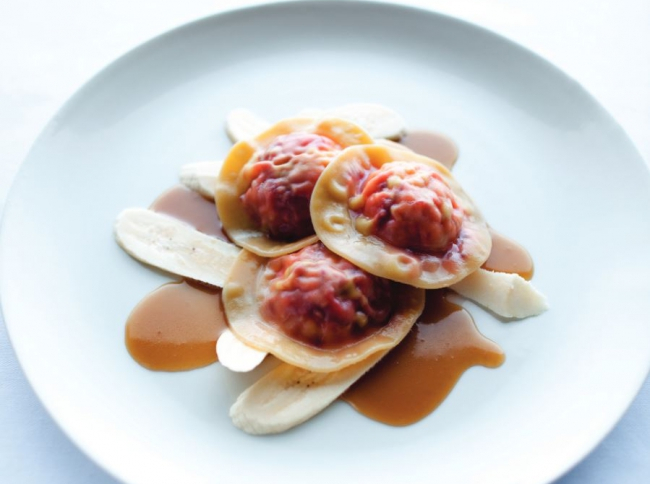 Method
Combine the grated fresh beetroot, smashed banana, ricotta, melted butter and lemon thyme, mix well and keep cool.
Spread a clean tea towel out on the bench. Place a few wonton skins down a few centimetres apart, and top with a teaspoon of the beetroot/banana mixture.
Cover with another wonton skin and pinch down the edges. Be sure to remove any air pockets as they can make the ravioli split open when cooking.
Heat a pot of boiling water and add a few tablespoons of sugar and a knob of butter.
To make the banana butterscotch, heat the cream and sugar until the sugar dissolves.
Simmer on medium heat for 1 minute and whisk in the butter. Gently add sliced bananas and set aside.
Once the water has reached boiling point, gently add the ravioli.
Cook for 2 minutes, remove with a slotted spoon and drain on a clean cloth.
To serve
Place the ravioli on a serving plate and pour over the banana butterscotch sauce.
Handy Tips
Handy Tip
01
If you feel like mixing things up a little, try frying these in a little oil and turn them into banana fritters.
Handy Tip
02
If you want guests to determine how much sauce they add, divide the ravioli into individual dishes and serve the sauce in little jugs on the side.
Back to Recipes