Homemade beef burgers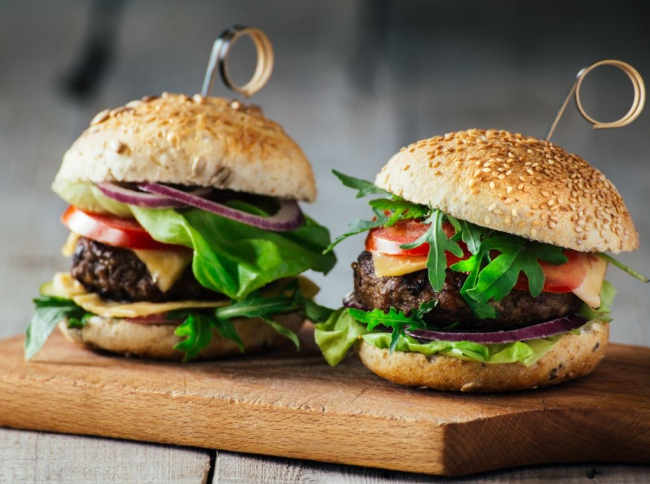 Method
Heat olive oil in a frying pan over medium-low heat.
Cook the onion for 2 minutes until translucent, then add the garlic and cook for another minute. Place on a plate to cool.
Combine the mince, cooled onion, garlic, egg, sauces, dried herbs, and seasoning and mix gently with hands to combine.
Shape into one large round and then divide into four even portions. Shape the portions into rounds and flatten gently with the palm of your hand.
Heat a heavy pan over medium-high heat. Brush one side of the burger patties generously with olive oil and cook for 5 minutes without moving.
Flip the burgers over and cook for four minutes on the other side. Add a slice of cheese to each patty for the final minute of cooking.
Remove from pan and rest for 5 minutes, covered in foil.
Slice buns. Spread mayonnaise on one half of each bun and pesto on the other.
Place a burger on the bottom half of the roll, season with salt and pepper, and top with sliced tomato, rocket leaves, and onion leaves.
You may want to use a small skewer or toothpick to secure the top in place.
Handy Tips
Handy Tip
01
Bear in mind that the patties shrink while they cook, so don't make them too small.
Handy Tip
02
Roll the patties out on parchment paper to get an even and consistent shape.
Back to Recipes