Marron laksa with lemon myrtle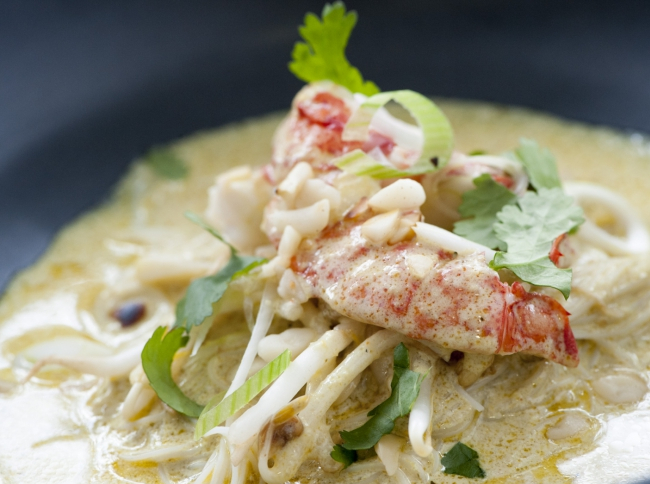 Method
To make the paste, combine the lemongrass, chillies, ginger, galangal, garlic, lime leaves, coriander roots, turmeric, macadamia nuts (save a few for garnish), shrimp paste, fish sauce and a little oil in a food processor.
Blitz until it forms a paste, adding more oil if required. Add two or three sprays of the lemon myrtle essence and stir through.
To make the laksa, heat a large wok over medium high heat. Add a small splash of oil and three heaped tablespoons of the curry paste. Cook for 2-3 minutes until aromatic.
Add the coconut milk, bean sprouts and reduce the heat to low.
Place a pot of salted water (also sprayed two or three times with the lemon myrtle essence) to the boil and cook the marron in boiling water for 3 minutes. Remove, rinse under cold water and set aside.
Boil enough water in a kettle to pour and cover the vermicelli noodles. Let sit for 2-3 minutes.
Once the laksa has thickened slightly, begin to cut up the marron. Stir the claw meat and vermicelli noodles through the curry but reserve the tail meat.
To serve
Place laksa into a bowl, add the tail meat and garnish with spring onion slices, coriander leaves, crushed macadamia nuts and a spray or two of the lemon myrtle essence.
Handy Tips
Handy Tip
01
You can buy lemon myrtle essence at health food and speciality stores.
Handy Tip
02
This dish pairs beautifully with Rockcliffe Third Reef Riesling 2014, from Mount Barker.
Back to Recipes