Pasta alla norma (eggplant pasta)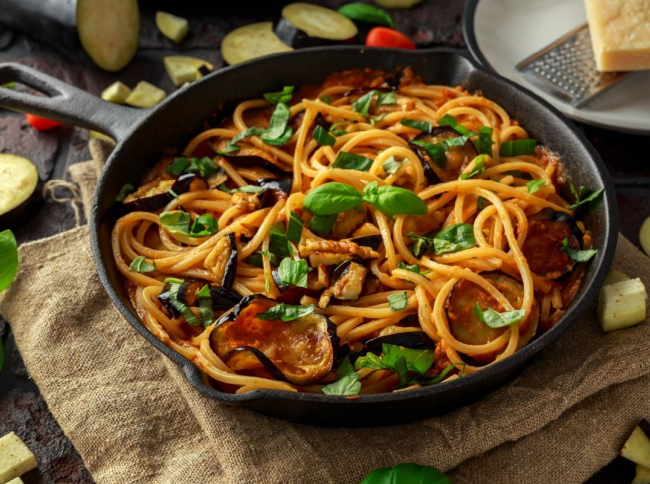 Method
Slice eggplant into 1cm thick slices and sprinkle with salt, then set aside for 10 minutes.
Wash and pick basil leaves from the stem.
Heat half the olive oil in frying pan and fry the eggplant slices in batches until golden and softened (about 5-8 minutes per batch), then remove and place on a plate.
Repeat until all the eggplant is cooked, adding extra oil as needed.
Meanwhile, place a large saucepan of water on the stove and bring to the boil.
Add remaining olive oil to pan and sauté the garlic and chilli over medium high heat for 5 minutes, before adding the tinned tomatoes, tomato passata, balsamic vinegar and sugar and stir to combine.
Fold in the crooked eggplant. Bring to the boil, then simmer to reduce for about 10 minutes. Season with salt and pepper to taste.
While sauce is reducing, cook pasta according to packet instructions, then drain and toss
through the sauce with basil leaves.
To serve
Generously top with ricotta salata or a sharp pecorino Romano cheese.
Garnish with a sprig of basil.
Handy Tips
Handy Tip
01
Ricotta salata is a salted, aged form of ricotta cheese with a crumbly texture.
Handy Tip
02
Use the pasta of your choice, but spaghetti or casarecce work well in this recipe.
Back to Recipes